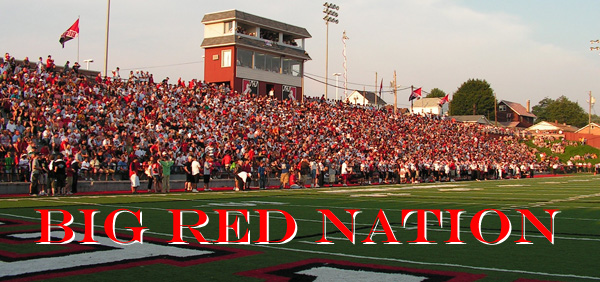 The Big Red Nation comprises every person that has walked the hallowed halls of 420 North 4th Street, or has "adopted" the Red as their team along the way.
The Nation stretches to points all over the globe with loyal Big Red alums checking in via the internet, or phone, on the results and happenings with the team.
At home or on the road, the Mighty Big Red are always extremely well represented, and have packed visiting stands all over the state. Almost all of the OHSAA non D1 playoff attendance records involve the team from the banks of the Ohio River.
We here at rollredroll.com are very proud of our school, as well as our fans, and are honored to salute our rabid fan base with this "Big Red Nation" section.
Volume 5: Andrew Lash, class of 1986
.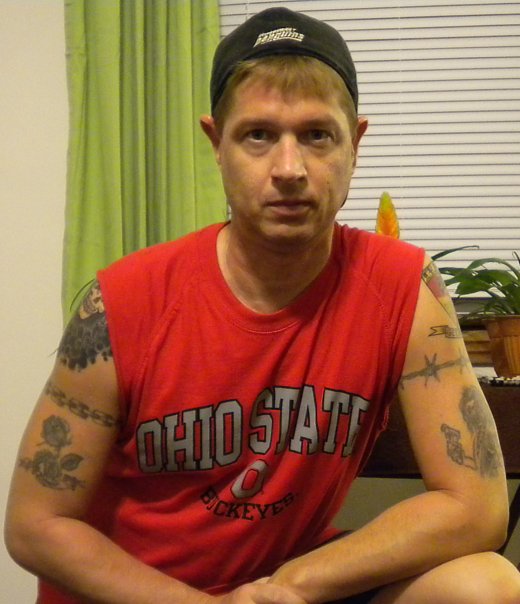 My parents started taking me to Big Red football games when I was 5 years old.  Since that time, there has been no place on earth where I would rather be on a fall Friday night than Harding Stadium.  Even during my time of service in the Army, I would sometimes coordinate my leave time so as to be able to see a game or two.  My Mom would tape every televised game and mail it to me, as well as the Herald-Star articles following each game.  Yes, I am a Big Red football junkie, and proud of it.

~Big Red Memories via text:~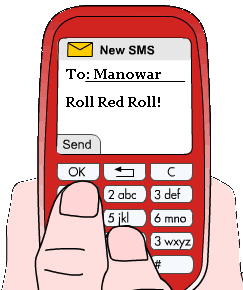 "I a proud to say that I played along side of Smitty (Lawrence David Smith) through 1981, and I also listen to all of the Big Red games from Columbus, Ohio, and love to listen to another friend Ross (and crew) broadcast every game live. Shout out to Bobby (Silky) Sullivan, THE BIGGEST BIG RED FAN than I know, who recently got married. RRR!" -John Hartman, Columbus, Ohio, class of '81,
"I'm a Life long Big Red fan. I played football for the Red in 1979-1981. I live in Charleston SC and watch,Sports Friday and Listen to every game on the radio with my Big Red shirt and ball cap on. Football is different in the South, I really miss the Ohio Valley and how it represents football. I Love the Crimson and the Black. Looking toward next season, Roll Red Roll in 2011." -Lawrence David Smith, Charleston South Carolina.
"My name is Jeff Carneiro, and I'm a 1975 grad. I have been a a fan of Big Red Football all of my life. I remember my folks taking me to games at an early age, and rolling down the hill on the east endzone. I also remember making predictions of the scores of each week's games with my folks. One weekend my mother and I traveled on the bus to Massillon. We were favored to win, and there was a large crowd at the gate waiting to get in. When the gates were finally opened, the crowd made a mad dash and it scared my Mom. We lost that game, and boy was I heart broken. Later in life I was a Police Officer for the city, and would always sign up for the game. It wasn't about the money, it was about watching the Red. I got layed off and moved to Florida, where I continue my career in law enforcement. Now I can listen to the games on the internet, which is a great thing. In the past couple of years I have been able to travel and see a lot of games. Last year was the best, as I brought my son-in-law, and his best friend up to see the Massillon game. They had heard all of the stories, and saw some video, but were not believers of the Big Red Nation, and how we can tailgate. They became believers that night and now listen also. I can't wait for the season to start. I'm already planning a trip to see them play in weeks 2 and 3. ROLL RED ROLL." -Jeff Carniero
"Of all the precious memories of my beloved Big Red the greatest would have to be on the occasion of the Division III State Championships in 2005 and 2006. Both of these championships were won on my birthday, December 2nd. And to top it all off, the team and coaches sang happy birthday to me in the center of the field before receiving their trophy, it just doesn't get any better than that."     -Bill Klein
"When the ref's put their arms in the air for touchdown, and the Wintersville people jumped over the railings onto the field to celebrate while the Big Red side was silent, then it seemed like 5 minutes later the ref's signaled no touchdown and all the Big Red side stormed the field to celebrate the victory; they could make a movie about that game. Car rallies, egging of houses and cars, I'm getting fired up reliving it!" -Dave Lewis.
"Beating DeSales in 1994. They were the best team in the state in any division, being down 14-0 and Nate Johnson taking over the game to give us the victory." -John Craig
"I have 3...The Comeback against Hoover...watching B. Young play...and the naming of Calvin Jones Way." -Frank Fuscardo
"My favorite memory is the 1985 playoff game against Wintersville. There was alot of pressure on Big Red to not lose a home playoff game against our arch rivals and The Red went down 14-0 after Kevin Wesley broke a 73 yard td run with 6 or so minutes left in the game and I remember some Wintersville players running by Big Reds side of the field and pointing at our bench and fans and then magic happened after that. We scored and stuffed them on d to go 3 and out. Then Nodi threw that slant pass to Shack and after 2 great blocks he scored to send it to overtime but we already knew at that point who was going to win the game."  -Joe M.  Class of 86  RRR
"I would have to say without question that my greatest memory and will always be my greatest memory was watching The Big Red win back to back titles on my Dad's birthday.  I'll never forget the smile he had on his face both times.  Those pictures are forever etched in my memory." -Craig W. Klein, President Capital Recovery Systems.
"I graduated from Big Red in 1975 and have been following the team
for years. I've lived in Jackson, Ms., Atlanta, Ga., Asheville, N.C. and
Buffalo, NY. I've always enjoyed the games online (when available)
and really missed a lot over the years. It's great to hear that we are
playing Massilion again. Once a Big Red Stallion, and a Steeler, always
a Stallion and Steeler. Great job broadcasting the games."-Mark Halischak, class of 76, now in Baltimore, Roll Red Roll!
THE BIG RED HAS ALWAYS BEEN THE BEST. MY HUSBAND CANNOT UNDERSTAND HOW DEDICATED, LOYAL AND ENTHUSIASTIC BIG RED FANS ARE. EVEN THOSE OF US WHO NO LONGER LIVE IN STEUBENVILLE. I EXPLAIN, BIG RED IS A PHENOMENON. A TRADITION OF EXCELLENCE THAT PLAYERS, FANS AND A CITY THAT SUPPORT UNCONDITIONALLY. ROLL RED ROLL!!!-Carole Smith Williams, class of 75, Stone Mountain, Georgia.
Living in Florida for the past five years I have had many discussions with local people here about high school football .They seem to think they have something special here and maybe they do in the overall picture of the country. They have put out a great deal of big names when it comes to NFL greats and they always have several teams in the USA TODAY Super 25 (Whatever that is worth) but when I walk into a game between Naples who has made several trips to the state finals and won a couple in the last 5-6 years and is certainly one of the powers in Division 5 (2nd largest div. in Florida maybe 2000 students) and another Div. 6 school (largest division) at kick off and sit on the 50 yard line 20 rows up...best seats in the house and look around at the other 999 people there I realize that "Special" is an understatement for what we have in Steubenville. People just don't understand and you can't explain it to them. They just don't get it. Since I left Stuebenville nine years ago there has been a void in my life in the fall on Friday nights. People talk about what they would do if they ever came into millions of dollars... cars, houses, travel etc. Yes of course, but also, I would never miss another Big Red game.-Ron Baker, class of 87, Miami, Florida.



I drove over 8 hrs last week ,to visit with family but mainly to watch Big Red Friday night. When I finally got my seat there in Harding Stadium. I took a good look around and i finally realized I was home. It's a feeling that is hard to describe. To anyone that has the love for high school football, This is the only place to be,there is no other place in the country that will make you feel this way. From the opening kick off to the very end of the game. When the horse breaths fire after a score, it sends cold chills down your neck. And to see the Mighty Big Red take the field with coach Reno at the helm....made me just want to run onto the field grab a helmet and say "put me in coach" he is a great coach with a great team who has great fans...and the best band in buckeye land


. Now that i'm back in North Carolina i have to go back to listening to the games every Friday night on the internet.i pull out all my Big Red stuff and cheer you all on to victory. You will always have a Big Red fan here in NC. BRING US A STATE TITLE HOME THIS YEAR GUYS!!!!  Roll Red Roll!!!!!!!!-John Freeman, Mingo class of 92, Charlotte, North Carolina.


The past five seasons I had the opportunity to cover the Steubenvillel Big Red football program directed by Coach Reno Saccoccia and it made me a lifetime fan. Go Red! Anytime I have a free night, you will find me at Death Valley. This is a program and a tradition the entire Ohio Valley should look at with great respect and pride. Big Red knows how to win the right way. I hope this is another 15-week season capped by a victory in the state championship game.-Nick Bedway, Wheeling Central Catholic class of 52, Wheeling, West Virginia.