~The Nation Speaks~
Big Red fans recall their fondest memories.
Volume 5: Andrew Lash, class of 1986.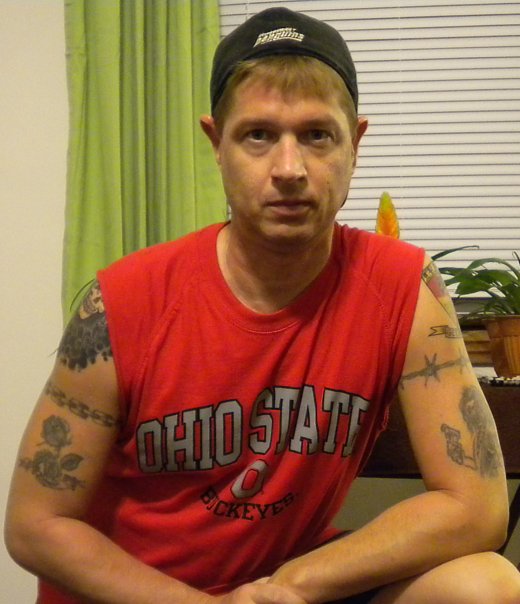 My parents started taking me to Big Red football games when I was 5 years old.  Since that time, there has been no place on earth where I would rather be on a fall Friday night than Harding Stadium.  Even during my time of service in the Army, I would sometimes coordinate my leave time so as to be able to see a game or two.  My Mom would tape every televised game and mail it to me, as well as the Herald-Star articles following each game.  Yes, I am a Big Red football junkie, and proud of it.
    The memory that I would like to share occurred during my senior year.  It was the 1985 season, week 1 of the OHSAA playoffs.  My most hated team, arch rival Wintersville, invaded Harding Stadium with high hopes of upsetting my beloved Big Red.  I was there with my best friend Clyde, who had a few too many beverages prior to the game.  I had never been more pumped up for a football game, yet Clyde managed to pass out in the bleachers with no signs of waking up anytime soon.  The game was a defensive struggle and when Wintersville broke off a 73 yard T.D. run over half way through the 4th quarter to take a 14 - 0 lead, the strangest thing occurred.  As my heart and hopes began to fade, Clyde suddenly arose.  After missing the entire game up to that point, Clyde stood up and screamed "Let's Go Red!!!"  Whether it was fate or coincidence, it was at that point where Big Red became invincible.  Two quick touchdowns tied the game and Big Red went on to win in overtime 21 - 14.  I floated out of Harding Stadium on the greatest high of my life, and to this day, I still hate Wintersville!!!
Andy "Drew" Lash
1986
Volume 4: Kerry Fithen Wile, class of 1995
I DON'T EVEN KNOW WHERE TO BEGIN I HAVE HAD SO MANY GREAT MEMORIES OF BIG RED ESPECIALLY FOOTBALL GAMES I HAVE HAD MANY FAMILY MEMBERS  THAT HAVE PLAYED BALL FOR BIG RED PAST AND PRESENT SO I HAVE BEEN ATTENDING FOOTBALL GAMES FOR YEARS AS LONG AS I COULD REMEMBER I LOVE THE EXCITEMENT THE ENERGY IN THAT STADIUM IS UNLIKE ANY OTHER I USE TO SIT ON THE RAIL OF THE ENDZONE NEXT TO THE BAND AS A LITTLE KID WATCHING MY COUSINS MYRON WALKER ~ P.J. PYLE ~ CODY PYLE PLAY BALL IN THE 80'S ALONG WITH LOTS OF CLOSE FRIENDS OF MY FAMILY THE TRADITION OF FOOTBALL IN MY FAMILY RUNS DEEP STARTING WITH MY UNCLE PAUL PYLE ALTHOUGH I NEVER GOT TO SEE HIM PLAY THE STORIES WHERE AMAZING MY COUSINS DID HIM PROUD WHEN I GOT TO HIGH SCHOOL  IT WAS MY YOUNGER COUSIN I GOT TO WATCH ROB FITHEN ONE OF MY FAVORITE MEMORIES FROM H.S. WAS WHEN BIG RED USE TO PLAY CCHS THE NIGHT BEFORE THE BIG GAME WE WOULD STAY UP ALL NIGHT LONG GOING OUT INTO NEIGHBORHOODS HANGING SIGNS ON POLES AND THE CAR RALLYS AFTER SCHOOL THE PEP RALLY DURING SCHOOL I DRESSED UP AS THE GRIM REAPER AND WALKED THE FOOTBALL TEAM INTO THE PEP RALLY THOSE WHERE SOME GOOD TIMES THE TRADITION TO THIS DAY IS OUTSTANDING I CAN NOT WAIT UNTIL THE NEXT CHAPTER FOR ME THAT WILL BE WHEN MY SON BLAZE WHOM IS 6 STARTS PLAYING FOOTBALL AND KEEPS THE TRADITION GOING THE TRADITION WILL LIVE ON FOREVER IN MY HEART NO MATTER I WILL ALWAYS BLEED RED AND BLACK!! ROLL RED ROLL...

Volume 3: Heather Ensminger, class of 1972.
AHHHH   Big Red Football.  Memories are definitely at mixed bag of emotions.  My senior year in high school was the year for the fire breathing horse.  I'll never forget the anticipation when we lowered that paper tiger out of the trees and the mighty horse breathed fire and burnt it to bits.  Massilion kicked our butts that year.

Through the years I've been hither and yon but my heart never left the valley or my school.  I was a  second generation Big Red graduate, and my son, thankfully, was the third generation.  As noted above, the football team wasn't winning any championships in my era.  Heck, we were lucky to have a winning season.  In fact, if memory serves me correctly our favorite cheer was "up the middle, up the middle, up the middle, punt." But my son graduated in 2000 and football was quite a bit different then.  We cheered for a team that only got better and better.  And then, better still. 

There is nothing that can take the place of sitting in the stands at Harding Stadium and watching a great academic school achieve greatness on the football field.  I've seen wonderful young men achieve more than their individual talents would have deemed possible.  Coach Reno is a wonderful, inspirational coach, but he is so much more than a "coach".  He has managed to create a winning tradition at Big Red that transcends sports.  His "vision" of how he sees his team is reflected throughout  the school:  From the academic students, to the athletes, to the students whose desire is to enter the work force out of high school.  All have been "Renoized" in some way.  Reno has instilled in the entire student body one message: That you can excel if you don't quit.  Example?  When was the last time you heard of one of Big Red's players going to a Division One school and becoming a standout  (nothing against you Buster or Zach)?   A few weeks ago, when Big Red was preparing for the "Rally in the Valley", I read the special section of the Herald Star. Woodland Hills had quite an impressive list of notable alumni.  However, with the exception of Buster Tillman, Big Red's "notables" had nothing to do with the football field.  But that notables list didn't factor in one amazing coach---Reno. He manages to bring together a group of good kids, and as a team, makes them outstanding and note worthy.  That is an amazing gift. And as before mentioned, one not confined only to his team.  To me, that makes for one impressive man and ultimately, one impressive high school.

I truly love Friday nights in the Harding Stadium, and in the last fifteen years have rarely missed sitting in the stands and rooting on the Red. And as I am sure those who remember the first paper tiger and the fire breathing horse, I am not alone in wishing these young men representing the 2009 Big Red will redeem our name in the upcoming game.  But no matter the outcome, Big Red is like no other.  I am proud to say not only am I, but my parents, my brother,and my son, graduates of the Red.

Volume 2: Josh Leisure, class of 2000
.

When approached to write this article for the website, I had no idea what to write as I have never played football for Big Red. During my childhood, I moved every three months it seemed, as my family followed my Dad around the south. He was a United States Marine and from what I have been told by others, a pretty important Marine. In only one school year, I attended five different elementary schools in four states. My only "home" during those years was in Steubenville, and I would make the trip up north whenever my grandfather would pick me up. Every time he picked me up in the Carolina's, he greeted me with frozen DiCarlo's pizza and a Big Red t-shirt. My love for Big Red football became rabid at a early age because my grandfather gave me the same desire he had for 420 N. Fourth Street. Often times, he drove down to my house in the South on a random Wednesday just to pick me up for the Big Red game that Friday.

This is where my story begins, on a random Friday night at the Big Red game, when my grandfather introduced me to his friend. Though I did not know who he was at the time, my grandfather's friend talked to me for what seemed like an hour during the Big Red game. He told me random Big Red stories like any older man would during a game, and he told me to visit him again when I came to the next Big Red game. I remember going home and telling my Mom about this man and telling my Mom, "Mom, I wish I could be like Mr. Georgifandis." Simply because he was able to watch Big Red football every weekend.

In 1995 my family moved to Steubenville after my father retired from the Marine Corp, and I transferred into Harding Middle School. Over the course of the year, I must have made an impression on someone as I was nominated to join the Key Club at the High School. At the time, it was a big honor and few were able to join. During the interview process, Mr. Georgifandis, who happened to be the key club advisor, asked me questions. When recognizing my name, he said he remembered me and asked if I remembered him. I told him of course and laughed as I told him that I told my Mom I wanted to be like him. He laughed and joked that I can do far better.
Shortly after, he retired from Big Red and I never got the opportunity to have him as my history teacher at 420 N. Fourth Street. Though I cannot complain as Mr. Biasi and Coach Vuch caused me to fall in love with history during my teenage years. After three years in college, and an internship at a D.C. think-tank, I came at a crossroads in my life. I had to determine what I would do for the rest of my years. I found myself bored at the thought of working for Washington or Columbus politicians. One day, while alone in my dorm room, I decided that I wanted to be like Mr. Georgifandis.

Five years later, I am a High School History teacher, and am striving to be as good as he was in the classroom. Though I have not yet landed that dream job at Steubenville Big Red, I hope to end up there one day and give back to the community that gave me so much. Big Red may be known state-wide for football but it is its academics that should be known also. Steubenville Big Red and its teachers have prepared me to be successful, and I am just one of the many from Big Red who thank her for everything she has given us. Roll Red Roll.
Volume 1: Sean Conrad, Class of 1986.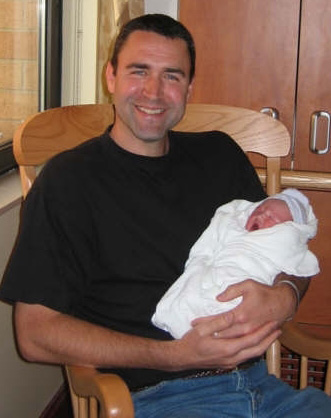 It was a Friday evening in the fall of the early 1970's (I was 5-7 years old at the time) & I was riding around Steubenville in the car with my father. We drove by Harding Stadium & the only light that was on was the light that illuminated the ticket booth were the words read "Harding Stadium Home of the Big Red". I asked my father, "hey daddy isn't the Big Red playing football tonight?" He replied, "yes they are, but they are away at Massillon". The emotion that I recall from that night was sadness. Not because the Big Red was playing Massillon, but because we wouldn't be seeing the Big Red that evening.
Over my 40 years of life, like many fans, I have experienced many highs & lows following my favorite teams. But unequivocally, if every sport were to be halted and only one sport would be allowed to remain my vote would be for high school football. In my opinion, there is no other sport that I get more enjoyment from than watching the Big Red on a cool fall Friday evening in the friendly confines of Harding Stadium. As the players approach the top of the steps before entering the field of play there is anticipation in the air that is unmatched in any other sporting venue that I have attended.
I asked a friend from the Youngstown area a few years ago (that was a good high school player in his own right) his perception of the Big Red and why we are so successful. Without missing a beat he stated, that Big Red imposes their will on the opponent & by doing that they take the other team out of their game plan". That is a direct reflection of a top notch coaching staff and dedication by the players, year in & year out to perform at their best at every opportunity because they have such a small window of time in which to add to the tradition which is BIG RED FOOTBALL.
Of course most of the greatest memories (good & bad) happen away from Harding Stadium during the months of November and December which means "playoffs"!
I am honored that I was asked by the RollRedRoll staff to share my fondest memories & of course memories can be good & bad, so I will share the worst one first. The year was 1994 and it was the week after we played and won an exciting playoff game against Columbus DeSales after coming from behind on three separate occasions. The next week we were up 21-0 against West Branch in the first half only for the wheels to come off & we ended up losing 31-28. I was already set for my state championship road trip the next week only to watch it slip away, wow did that one hurt.
Of course, the nice thing about talking about the bad memories first is there are only great memories to follow and this takes me back to my junior year at the Big Red, 1984. In my opinion the 1984 championship is an even better championship than the 2005/06 back to back state titles because it set the standard for all to follow. I still remember the setting inside of Ohio Stadium in Columbus & can easily bring back those emotions of total elation because my fellow classmates were the first Big Red team to bring home a state title that was won on the field. This in no way is meant to demean the success of Big Red football before 1984 or since, because the standard and tradition have for the most part always been extremely high. Not all teams can win the state title; sometimes it is the bounce of the ball & other times we just got beat by a better team. Regardless of the outcome each season I walk away with the privilege of being a Big Red fan.
Now there are other great memories and moments to share, and the run the last six to seven years has really been great. I could fill a book with all of my memories, but there isn't the time or the space to do that now. It is a great thing to be a Big Red fan, and being an alum makes it that much sweeter.
Roll RED Roll