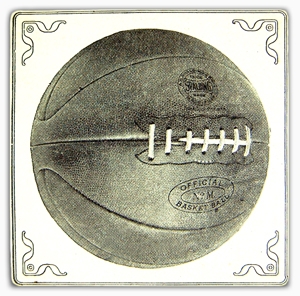 Big Red has been playing basketball since 1906, and have utilized a variety of courts throughout the city during that time. The old Wells Building housed Steubenville High School prior to 1940, and was the team's first home court. Games were also played at Memorial Auditorium and National Hall in those early times. In 1917 the Wells Annex was built (currently Wells Elementary), and the team moved it home games to the gym there. From 1927 through 1935 Big Red's home court was moved to the bigger gym of Grant Junior High, which was commonly referred to as The Pit. In 1935 the team returned to the Wells Annex gym, and stayed there until the current Steubenville High School was completed in 1940.
Big Red spent 2 decades in the gym before the St. John Arena was built in 1960. At first Big Red would only play a few big games per year at the Arena, along with the tournaments, but gradually all of the team's home games were moved to the west end of the city. Starting in 1970 Big Red would not host a true "home" game for another 24 years.
In 1993 the citizens of Steubenville passed a bond issue for improvements to the 54 year old Steubenville High School. Part of the improvements was the addition of a new gym, a olympic sized pool, a commons area, and various classrooms. Big Red opened up the Crimson Center in 1995 and have been playing in the cozy confines of 420 N. 4th Street every since.
Regular Season Home Court Record
| | | |
| --- | --- | --- |
| Site | Won | Lost |
| Wells High | 11 | 1 |
| Memorial Auditorium | 18 | 7 |
| National Hall | 27 | 12 |
| Wells Annex | 111 | 49 |
| Grant Junior High | 47 | 22 |
| Big Red Gym | 234 | 69 |
| St. John's Arena | 220 | 82 |
| Crimson Center | 158 | 74 |
| Totals: | 826 | 316 |
| - | - | - |
Regular Season Away Record
Tournament Games
| | | |
| --- | --- | --- |
| Site | Won | Lost |
| St. John's Arena | 64 | 31 |
| Big Red Old Gym | 12 | 2 |
| Cambridge High School | 1 | 0 |
| Canton Field House | 1 | 1 |
| Columbus Fairgrounds | 3 | 4 |
| Crimson Center | 2 | 1 |
| Dennison | 1 | 4 |
| East Liverpool | 3 | 5 |
| Grant Junior High | 3 | 3 |
| Martins Ferry | 5 | 2 |
| Marietta College | 1 | 2 |
| Muskingum College | 7 | 8 |
| New Philadelphia | 1 | 0 |
| Ohio University | 5 | 7 |
| Ohio University Eastern | 13 | 7 |
| St. Clairsville | 3 | 0 |
| Tiltonsville | 2 | 7 |
| Toronto | 13 | 3 |
| Wellsville | 10 | 1 |
| Zanesville High School | 1 | 3 |
| Totals: | 151 | 90 |
| - | - | - |