William "Will" J. Robinson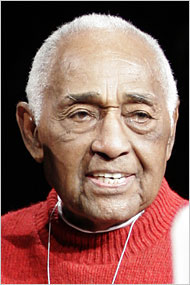 June 3rd, 1911-April 28th, 2008
Will Robinson was the Quarterback of Big Red's 9-0 undefeated, untied, & unscored upon team in 1930. That Big Red unit outscored its opposition by the count of 277-0 while earning the schools third State Championship.
Also an accomplished golfer, Mr. Robinson finished second in the state his senior year.
He went on to a distinguished career as a player, coach, scout, and executive.
The following is his New York Times obituary:
Will Robinson, Top Scout, Dies at 96
Published: April 30, 2008
Will Robinson, who broke racial barriers as a college basketball coach, discovered talented players as a scout for both professional basketball and football teams, and was an influential figure in both interscholastic and professional sports in Detroit, his hometown, died there Monday. He was 96.
The cause was complications of pneumonia, his granddaughter Leah Robinson said.
It was in 1970, four years after the landmark championship game that ushered in the era of integration in college basketball — Texas Western, with five black starting players, defeating the University of Kentucky and its entirely white roster — that Mr. Robinson was hired as head coach at Illinois State University. He became the first black man to hold a head-coaching post in Division I, the top competitive tier of theN.C.A.A.
Mr. Robinson spent five years at Illinois State and never presided over a losing season there, finishing with a 78-51 record. He coached, among others, Doug Collins, who became an All-Star and later a coach in the N.B.A.
Mr. Robinson worked for the Detroit Pistons and remained with the team for 28 years, retiring in 2003 at the age of 92 as the assistant to the president of basketball operations. But his most prominent role was as a scout.
For a decade or more, three men — Jack McCloskey, the general manager who was widely credited with building the back-to-back championship squads of 1989 and 1990, Stan Novak and Mr. Robinson — handled all the club's scouting duties, acquiring for the Pistons the likes of Isiah Thomas, Dennis Rodman, Adrian Dantley, John Salley and Joe Dumars.
William Joseph Robinson was born on June 3, 1911, in Wadesboro, N.C., to teenage parents who both died before they were 30. He was brought up by grandparents, mostly in Steubenville, Ohio, where he led his high school football team to an undefeated season and finished second in the state high school golf tournament despite having to play his rounds alone, with no spectators, because he was not allowed to share the course with white players. He attended West Virginia State College and earned an M.A. in sports education from the University of Michigan.
Besides his granddaughter Leah, he is survived by his wife of 41 years, Helen; a son, William Jr.; two other granddaughters and a great-granddaughter, all of Detroit.
Mr. Robinson first moved to Detroit from Chicago in 1944, and spent the next 26 years coaching basketball and football at several schools. In the 1960s, he was coach of the powerful team at Pershing High School, where he won two state championships; among his players were the future pro players Spencer Haywood and Ralph Simpson.
At the same time, he was a part-time scout for the Detroit Lions — the first black scout in the N.F.L. — covering the black colleges of the South. At Jackson State in Mississippi, Mr. Robinson discovered Lem Barney, a defensive back whom the Lions drafted in 1967 and who went on to be elected to the Pro Football Hall of Fame.
"He was a very, very competitive individual," Mr. McCloskey said of Mr. Robinson in an interview Tuesday. "And he expected everybody else to be that way, too. I remember we were at a tournament for college seniors in Hawaii one time, and he had become disenchanted with one of the kids because he didn't think the kid was working hard, and one night we're walking into a restaurant, and suddenly Will rushes across the street and admonishes this kid in front of his friends. I mean, he really gave it to him. I guarantee you that kid remembers Will Robinson."