Charles Quidland "Punque" Cartledge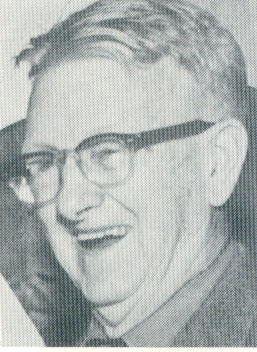 October 13th, 1893-November 12th, 1978
The man that put Big Red on the map.
Charles Quidland "Punque" Cartledge, the man who was a loved and respected legend when he coached Steubenville High School football teams to local, state, and national fame, died at 8:00 p.m., Sunday, November 12th, 1978 in Ohio Valley Hospital. He had resided at 1524 Maryland Avenue in Steubenville. Mr. Cartledge first started coaching football at Steubenville High in 1916, 4 years after he graduated from the school and when he finished in 1940, his teams had won 133 games, lost 39, and tied 9. He produced 7 undefeated teams and 3 others teams lost only 1 game. His 1925, 1926, 1930, 1931, and 1935 teams were state champions and several others were ranked among the top 3 in the days when state championships were governed by popular acclaim. During Mr. Cartledge's long tenure at Big Red, he was called a phenomenon, one of a kind, a man ahead of his time. He was noted as a fierey taskmaster with a soft heart, a tactician, disciplinarian, psychologist and known for his inventiveness. Mr. Cartledge was a profound practitioner of football arts and his style was copied by many high school and college coaches. Among those who came to see Steubenville play were coaches from Ohio State, the University of Pittsburgh, West Virginia and many others. One of these was a young man getting his start in the coaching profession at Massillon, Paul Brown. Brown has said many times that some football he learned from Punque helped him build a dynasty at Massillon. Cartledge made frequent use of the forward pass out of a T-formation and old Notre Dame short punt formations and his teams were known for their execution, timing, and team play. He was a hard loser, but never lost his temper. He gave his athletes "lessons in living" and many former players and coaches will say "they threw away the mold". His top competition in the 30's came from Dayton Stivers, Cleveland Cathedral Latin, Canton McKinley, Youngstown South, Youngstown Rayen, and schools from Pittsburgh and Columbus. In 1931, Big Red defeated Massillon, 68-0, and that score ranks as the worst defeat ever inflicted on a Massillon team. Big Red also defeated Massillon in 1930, 19-0.
Cartledge played football, basketball, and baseball at Big Red and captained all three teams. In his senior year of 1911, Big Red was 6-1-1 with Cartledge at quarterback. While coaching Big Red, he took a leave of absence in 1922 to tour with a circus. During the 1930's he threatened to quit several times only to change his mind. Then, in 1940, after Big Red had won its opener, Cartledge retired. He was a basketball coach at Zanesville for a short time, but later was an assistant Big Red football coach to Ray Hoyman and Abe Bryan. Cartledge also coached Big Red's basketball teams from 1919 to 1939 and his record was 181-139. with two of his teams winning Ohio Valley Championships. He also coached tennis for several years. He helped the alumni association at Big Red and organized basketball and other sports in the first years of the YMCA. At Big Red, Cartledge also served as the director of plays and drew a lot of attention along those lines. At times, he even took part himself. He was known as a cartoonist and musician and wrote and directed high school plays. Cartledge is a member of the Ohio High School Coaches Hall of Fame and was inducted into the Upper Ohio Valley Dapper Dan Hall of Fame on January, 14th, 1969. He served in the U.S. Army during World War I and was a Methodist by faith. He was a member of the American Legion Post 33 and a 50 year member of Pilgrim Lodge 691, F&AM. Surviving are his wife, Florence Thompson Cartledge, a son, Charles T. Cartledge of Steubenville, a sister, Edna Camden of Caldwell, and a brother, Thomas P. Cartledge of Norcross Georgia. Mr. Cartledge was born on October 13th, 1893, in Steubenville, a son of the late George and Cora Porter Cartedge. Services were held at McClave-Chandler-Mills Funeral Home in Steubenville. Interment was at Union Cemetary, Reverand Eugene Oliver Officiating.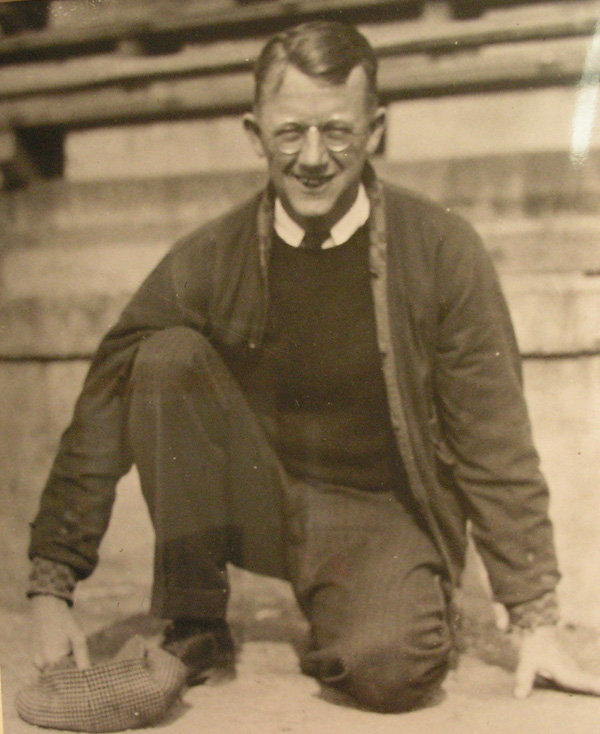 There's an old adage that goes "Never does a man stand so tall as when he stoops to help a child". Charles Quidland "Punque" Cartledge, former Steubenville Big Red coach fit that description perfectly and many men who played under him and coached alongside him will verify that statement. The legend of his success at Big Red will continue to be heard as long as one can imagine. Cartledge put together teams that were not only considered tops in Ohio, but in the nation and his 1930 team was 9-0 and outscored its opponents 277-0. To listen to some of his former players, Cartledge made an impression on any person he came in contact with and his influence years ago led many players on to college and outstanding positions in the community. One of those as Ang Vaccaro, who played quarterback and halfback for 3 years (1928-1930). Vaccaro, of course, went on to become head basketball coach at Big Red and was very successful. He is enshrined, like Cartledge, in the Upper Ohio Valley Dapper Dan Club Hall of Fame and Ohio Coaches Hall of Fame. Besides playing under Cartledge, Vaccaro had Cartledge as an assistant coach in 1951-52 when Big Red advanced to the state basketball championship in Columbus. He said the same thing others felt, "Punque was way ahead of his time with coaching ideas. Knute Rockne even studied Punque's ways. I'd been to a lot of clinics and listened to a lot of coaches, but Punque knew more than any of them. He was just great. He was a very learned man for not having attended college." Ross Mike, a detective on the Steubenville Police force, mirrored many of Vaccaro's thoughts, but added "He really taught us the game of football from the ground up. My brothers, Bob and Eddie, also played under him. He taught us fair play and good sportsmanship, but also important, he was genuinely interested in our personal well being. He goes down in my book as the greatest coach ever and I'm sure you'll get that same reflection from others who played under him". Mike was a junior on Cartledge's 1930 team. Another Steubenville Police officer, Sargeant Horace Hampton, who played from 1932-1935 at every spot in the backfield, said, "He is the father of football as far as the Ohio Valley is concerned. He's known all over the nation as one of the great character builders of men. He has been a strong influence with all the boys he ever came into contact with and a lot more who didn't play for him. He was like a father to me. I'm just happy to have had the privilege of playing for him."
Steubenville attorney Robert King, a member of the board of education, quarterbacked the 1936 team and felt that Cartledge was "definitely ahead of his time. The multiple offenses and the T-formation just didn't grab hold until years later and they eventually became the style. Cartledge was one of the finest teachers of football that the game has ever known. He was very exacting and demanding in terms of execution...a real perfectionist. If one was not willing to make a total commitment to playing the game, Cartledge just wouldn't give him the time of day. He wanted to spend more time with others who were interested." Walter Reducha played under Cartledge in 1929, 1930, and 1931. "Coach Cartledge had as much influence on my life as any one person," said Reducha. "He was very instrumental in my going to Western Reserve University and getting my education. I'm very, very sorry to hear about this and Steubenville just won't be the same with Punque not around. He was a great man to be associated with. I feel that all that has transpired over the years has been good and I owe it all to Punque." Ray Hoyman was Big Red's coach in 1947, from 1949 to 1953 and again from 1960 to 1963. In his early years, Hoyman had Cartledge as an assistant and was happy to have him around. From his farm near Jefferson Union High Schoo, Hoyman said that Cartledge would help him out quite a bit. "I felt very fortunate to have him working with me. He contributed a lot towards the program," Hoyman said. After leaving Big Red, Hoyman went to teach at Jefferson Union and retired in 1975. Another highly respected area coach never had the opportunity to play against Cartledge, but followed closely the success of Big Red. That was Carl R. Hamill of Weirton. Weirton and Big Red didn't start playing until after Cartledge retired and the rivalry proved intense. "I always had a lot of respect for him," said Hamill. "I feel he was one of the great coaches in the Ohio Valley and I'm sorry to hear of his death. We here in the valley all knew of him and his record. He turned of some outstanding football players and one of them was Puck Burgwin." Burgwin is considered the greatest offensive performer in Big Red history. He played in 1930, 1931, and 1932 and amassed 5,185 yards in scored 430 points during those 3 seasons. Guido Mastroianni played for Big Red in 1939, Cartledge's last full season as Big Red coach, and also at the College of Steubenville when Cartledge coached along with Brady Sullivan. "As for fundamental football, there's not another man who knew it better. He explained every play," said Mastroianni, "and showed how to make a block. He got right down to the fine points and showed you the game from the bottom up. I was also a punter and he'd just stand there and watch me kick and see what I was doing wrong. He spent a lot of time just showing me how to punt." Mastroianni said that Cartledge had the knack for making great players out of average players. "All they had to do was listen." Mastroianni was small as a sophomore at 127 pounds at Big Red, but Cartledge took time to show how a little man can take out a big man. He showed Mastroianni how to let the big man come at him, then show him a fake, then cut down the on rushing player with a block. "He taught and showed you how to do it. He got right down in there and showed you how to do it." Many, many more are mourning the death of Coach Cartledge and could spend hours reflecting on their associations with this man who spent so much time coaching, teaching, and helping the youngsters of Steubenville get on the right path.

Taken from an article in the Herald-Star published on 11-13-1978.
The Flying Dutchman recounts stories of Coach Cartledge from the Steubenville Herald-Star.
Over one-hundred years of gridiron glory. Over six-hundred all-time victories vs some of this states - and points beyond - most powerful and feared high school aggregations, and backed by some of the most loyal and passionate fans on the planet, the mighty-mighty Big Red of Steubenville High has left its imprint from one end of the buckeye state to the other - early and often! Little difference was made to the throngs of fans where their beloved "Stubbers" would engage the enemy, traveling at times hundreds of miles to root, root, root their boys on to victory. In 1927, over 2,000 love-sick die-hards made the long treck to western Ohio to give their full support to coach Punque Cartledge and his famous rough house warriors when they traveled all the way to Dayton by auto, rail and even air for a huge show-down with the large, Orange Crush, juggernaut from Stivers High.
Big Red went down to defeat that late fall day to undefeated Stivers boys by the sum of 13-12. But, it took two fumbled punts and the failure to gain the two extra, point-after-touchdown attempts to stop the Cartledgemen. It was the Villes first defeat on the field since the seventh game of the 1924 campaign, Steubenville was deep in the thro's of one of Ohio's first prep dynasties.
But home is where the heart and soal of the Big Red bleeds its brightest. In 1930 the thousands of followers of the football fortunes of the Stubs exploded with an all new sense of pride with the opening of the schools new football powerplant which would become known through-out the land as, Harding Stadium, and to its most recent fans, "Death Valley."
The great, Big Red historian, Man-O-War, shares with us that The Reds all-time record for battles fought in the confines of Harding Stadium is a staggering, 403 wins, 133 losses and 11 ties.
Without a long search of the records, a complete count of early attendance records is almost impossible to relate, but it was estimated in 1937 that well over 600,000 fans had "pushed through the turnstiles" to view the Red and Black in action from 1921 to 1933!
However, Harding Stadium was just one of five different fields that the Big Red has used and called home for their playing grounds. History shows us at this time, that the original football lot to be used was at the old Steubenville fairgrounds, where the Wheeling Steel plant stood. Not after too many years the gridiron battles were moved to what was called, "The Means Field" which was near what is now the Virginia Avenue residential section of town. The third location to be used was on the infield of the, Ross Park Race Track, that once was at Pleasant Heights. Then came the old, North End Field, which was the site of all home games from around 1919 to 1929. For many years after Harding Stadium opened North End Field was still used as the practice ground to "whip the boys to perfection."
Harding Stadium was once described as, "one of the most imposing high school football layouts in Ohio." Over the many years of use it has seen its share of improvements and up-keep. And one improvement that was added and met with instant approval was the scoreboard.
Steubenville sports historian, Frank Y. Linton recorded for all future Big Red and Central fans
the story of the early scoreboards being and its designer and builder.
Harry McFeely, a retired Weirton Steel Company engineer, got the idea of an electric scoreboard, and with the help of his neighbor, Harry Thomas, decided to build it, and soon after the two of them went to work on the project in a backyard garage on Lawson Avenue. McFeely said that the Booster Club of Steubenville High School furnished the funds for all the material which came to be about $8,000. He also made it clear that all of the work was done on a volunteer basis, with he and his friends totaling some 4,000 man-hours.
"Among the parts were about 1,000 miles of wiring, 2,000 relays, and about 9,000 soldered joints" added McFeely. He then said that the scoreboard was built in sections so that it could be moved to the stadium. He also reported that the original scoreboard had a large stainless steel clock which was furnished by the district casket manufacturer.
The scoreboard was then erected and made to function just in time for the first football game of the 1946 campaign. As was expected a very large and anxious crowd was on hand for the big unveiling. A huge curtain - borrowed from the Capitol Theater - was used to cover the latest addition to the stadium. Just after the pre-game festivities the curtain was withdrawn to a thunderous applause of approval for Mr. McFeely and his creation. Central then followed with a close 2-0 win over the Big Red.
Not realizing what a wonderful job that he had done in his time consuming labor of love, McFeely was called into the office of the President of Weir Steel, Thomas Millsop. Millsop told Harry that he wanted a scoreboard in Weirton Stadium just like the one in, and he only had two weeks to get the job done!

FIVE-STRAIGHT undefeated teams from 1922-1926 to 45 of some of Ohio and Pennsylvania's best scholastic grid teams of that era,(One loss in 1924 to Carnegie College Freshmen). TWO-TIME state champions (1925&1926). A grand total of 1,295 points scored for the Big Red as opposed to only 98 for the enemy. 35 shut-outs out of 46 games.
This was surely one of Ohio's first great all-time high school football dynasties, and it was just getting revved-up! Some of the most powerful outfits ever produced by Ohio school boys stepped to the plate to take their shot and left the fray steam-rolled by Steubenvilles increasingly famous Big Red juggernaut on the gridiron. And Oh how the mighty fell.
Bellaire's Big Reds, New Philadelphia's Quakers, Dover's Crimsons, Clevelands powerful- Cathedral Latin Lions, strong Youngstown South, Cannonsburg and always tough western PA. leader- Pittsburgh Shenley, lastly and certainly not the least Canton's famous Bulldogs. One by one they came to pick a fight with this, new-kid-on-the-block, and they would all be felled, battered and bruised one by one to these, "Punques."
All of this devastation and carnage committed by one school was coached by only one man - Charles Q. "Punque" Cartledge (no assistant coaches). Thats right, this rampant run over and through the pigskin world was led by a single man who was quickly becoming known as the master of Ohio high school football. Or, maybe just football period!
It is then little wonder that at the end of the 1926 football season on December 7, the Steubenville Board of Education adopted a resolution and re-appointed Cartledge as head athletics coach and to the position of "Supervisor of Athletics" for the city schools as a reward for his sensational work. Mr. Cartledges new three year contract would earn him a salary of $3,600 the first year; $3,800 the second and $4,000 for the third year.
President of the Board, R.L.McClave, stated that the appointment of Cartledge was the "direct result of the safe, careful manner and class in which he has conducted athletic affairs."
He also made it known that to Cartledges credit he "encourages the boys of this city to continue their school work at a period when, in the past they would have given-up their studies and turned their thoughts to working. Cartledges value to the youth of this city warrants our keeping him in our schools as long as he is willing to stay."
Herald Star sports editor, Jake Daugherty, had this to say about the reward on Dec. 9:
"With the appointment of Coach Cartledge, the boys, at this early date, can't see anything for advance worry in connection with the 1927 football season. Talking about a football season that is months and months away might seem a bit out of order, but it isn't. The folks will gibber about the past campaign until about next August and then the season which will be approaching will cause the tongue to exercise harder.
"Football is the king around this neck of the woods about every day in the year except December, 25 and will be on that day if old Santa Clause doesn't come through and play the ball expected of him. The school board has given the S.H.S. mentor a handsome contract. It is not only the result of the choice bits of the gridiron strategy he dispenses, but because of his value to the schools and the youth of Steubenville.
"President McClave of the school board, commenting on the re-appointments, paid the coach a fine tribute and there was no exageration in it. Cartledge has come to be the idol of about every kid in town and is in an influence over every lad that comes under his jurisdiction on the gridiron, the basketball court or the baseball diamond. He is why scores of boys continue their high school work when they would otherwise be lugging the dinner pails and heaving the pig-iron or looking after some other heavy or light task.
They want to play football and they want to play for C.Q. Cartledge and the result is they remain in school and will receive their diplomas and to play football and receive diplomas they must study. For it is for football and coach Cartlegde which many of the boys continue their high school education."

The press spelled it "Punque." The school yearbook spelled it "Punke" but the school paper spelled it "Punk." Either way it all spelled the same thing when they were talking about one of the all-time greatest high school athletic coaches in the state of Ohio...and points beyond.
Charles Quinland Carteldge
Today is the third in a series of short stories that Steubenville High School's legendary sports leader penned for the Steubenville Herald Star newspaper back in the year, 1926.
"PUNQUE TAILS"
They say that all things look good when thay are far away and this may be true, but I look back upon that year when I made my debut as a football coach as the best of them all. Perhaps this was due to the fact that there was not many years of difference between the age of the boys and me and I was better able to share their feelings. The teams had not had a regular coach since the days of Doc Smith of Cadiz - the same Doc who helped us so much during the tow of our big games this year (1926) and in the memorable 14-13 battle at New Philly (1923) a few years ago. The "flu" had forced calling off the schedule during the previous season so when I looked the squad over on the first day of practice I knew I was going to have my hands full.
They looked wild and they were wild! If you dont believe me look at these names: "Fritz" Risdon who captained the outfit and was kept out of the biggest game because I caught him going home on the hilltop car that left downtown at 11:30; "Toots" Manack who rates as one of the best tackles we ever had; "Ave" Hawthorne the wildest of the wild men of Broadacre; "Foxy" Baron who pulled a run against Martins Ferry almost as famous or infamous as the one DeMayo did against Mingo; "Ootch" Walters of Fishers Hill who now seems to have lived it down; Chaytor Robinson, also of Fishers Hill and who was the biggest little man I ever saw; Bobby Morgan, famous overnight for his battle with "Six" Thompson, both of them clinging with their legs and one hand to the top of the telephone pole while they socked each other with their free hand. This was the feature of the class fight and their mates were standing at the base of the pole waiting to catch the vanquished. Morgan later walked out on the telephone wires and cut down a class banner which was hung there. They had tried to burn it down, but they could not. It was made of tin.
Then there was "Red" Mahan who later, became captain at West Virginia U. where he was picked on the All-America; "Min" McSwiggen who was to have his big days later; Louie Goldberg of the "Seventh Street Goldbergs"; Billy Brockdorf who was so near-sighted that I never could figure out how he caught punts unless it was by total intinct and he was absolutely sure on them. And be it known that this boy could hit the line. Jimmy Brown was better known as a basketball player as was George Myers and Ralphy Douglas. Jimmy, incidentally, gave me the worst five minutes of the season. The ball on the kick-off came to him and he tried to spear it with his fingers and East Liverpool recovered. They were in a tough spot but fought their way out.
This gang never seemed to get tired-out but had more energy after a hard practice than before.
After getting dressed after coming out of the showers some one would slip out to see if I was far enough away for them to stage their show. This consisted of seeing how many boys it took to throw Ave Hawthorne (down). Ave would warm up on two of them, then more would be added until they could arrive at the result. If it took but four of them to down Ave he was considered the loser. If he could hold out against five or more he won. The battles would go on forever unless, attracted by the uproar of the falling benches or the banging of the lockers as bodies crashed against them, I would hurry over to drag them apart before they hurt each other, or Ave hurt them. Those battles looked like murder and sudden death and while some of them would be half dressed, the others would end up with not a stitch on them.
Out at New Philly that year, as we had three hours before game time, I herded them into the dressing room, locked the door from the outside and then went away and left them. I did not dare turn them loose on the town.
Wild? I'll say they were wild - but it sure was fun!

By 1929 his "boys" and he had produced five powerful and undeafeated football teams in, 1922,23,24,25,26 and garnered two state titles while battling some of the most feared grid outfits of the time. His basketball teams had won 107 games out of the 182 played and, his diamond nines had won 37 while lossing only 13 in five seasons! With the high school season now upon us, Coach Cartledge, in 1926 talked about what type of youngsters would show up for the pre-season drills for old Steubenville High. Who was by now the center of the scholastic football world in the state of Ohio. The words of Cartledge so long ago could still echo true to today.
"When our high school football squad is called out in the fall the boys report in all sizes, shapes and nationalities. Their ages are from 13 to 19 and their weights have been from 80 to 230. Some are boys whose football knowledge has been limited to the reading of the exploits of the Rover Boys. Some have played without pads and even without a ball on the tough Steubenville city streets, where the hard bumps they take on the asphalt and bricks do not seem to bother them. Others have played on the kid teams that are to be seen scrimmaging on the empty lots made up from the junior schools and the left overs from the year before who have had from one to three years experience on the squad. There are as many temperaments as there are boys and each boy presents a seperate problem. There are a few who report and want to make the team merely for the glory they think is in it. This type quits early. They cannot stand the reality of hard work. The real American boy likes competition and most of them love the personal contact which football demands. This is the type, represented by the majority of the candidates, who make up the Steubenville High squad. They play for the joy of playing and if they ever won a game this spirit would not desert them. They look forward to the grind of practice and laugh off their bumps and bruises. They are a great gang.
If your football season opens on the last Saturday of September it means that the team has just been put in fair running order in the too short space of three weeks. It is a race against time. The practice work is done on the field every day after school. The theory of the game and the plans for the season are gone over in the class room two or three nights a week.
These night meetings are conducted much the same way as any other study. There are lectures, discussions of all phases of the game, blackboard work, oral and written test. As the season advances these classes would get very dull except for one thing. At least once in each meeting some boy will rise to his feet and answer a question in a manner that is illuminating and entirely original.
One night last fall we were discussing tackling, that all important fundamental. The different types of tackling had been fairly well gone over and it was almost time for dismissal. In the room that evening was a very small, very young and very green freshman, whose football experiance had been acquired at, Seventh and Washington streets. Seeing him with one eye on me and the other on the clock, I gave the next question to him which was;
'Your team is on the defensive. The man carrying the ball has broken through the line and is coming straight at you with no intention of side-stepping, what would you do?'
The boy got to his feet and repeated the question to the team, stalling for time, then the great idea struck him. "Dodge-im Punque, let-im go past and then trip-im!"
That boy saw all the games this season from a very good seat on the bleachers and he howled and yelled louder than any other rooter in the stadium. We didn't care if he did climb over the fence (to get in)."

At the conclusion of another sensational football campaign, going undefeated (9-0-0) and outscoring the conquered foe, 365-18, and gaining the schools second consecutive "big school" classification state of Ohio football championship, Steubenville football coach, C.Q. "Punque" Cartledge sat down in his small office and with pen in hand reflected on some of the highlights of the just completed gridiron season. In this particular article we see Cartledge, softly, take a jab at some of the Big Reds most enthusiastic fans which he light-heartedly labels as, "those well meaning people!"
Dec, 21, 1926
PUNQUE TAILS
A football player must fulfill certain requirements if he is to be successful. Work and experience will take care of most of these but there are two things that every Steuby boy who stays on the squad has and has in abundance - love of the game and courage. I have heard of football players who were said to be yellow. There may be some place, but they must be very elusive persons because I have never seen one and I do not think I will believe it if I ever do see one.
During my own experience I have had many "well-meaning-people" stop me in the street or even make a special trip to the school to inform me, in no uncertain way, that some prominent player on the squad, Bill Brown for instance, isn't all he should be. Had I not seen Bill let two straight plays go ripping through him and make but a feeble effort to stop them? And that time he dropped to the ground when no one touched him - sure there was blood running from the corner of his mouth but whats a little blood? And hey, why didn't he catch that punt instead of letting it hit the ground - certainly he gained 15 yards by letting it roll for the touchback, but the crowd paid their good money to see ACTION. And why did he carry the ball that time with but three yards to go? He can't hit the line! We lost a touchdown by it didn't we? Grandstand stuff!
A coach must be a good listener, so the coach listens, and after the manner of listening, coaches. Their is a beutiful piece of statuary called "The Thinker." Some day, some artist is going to be inspired to do "The Listener!" It will be the statue done in wood, of a football coach draped in the raiment of his kind. He will be either sitting on the edge of a football coach's hard-bottom chair or leaning against that type of building which football coach's lean against. The face , wreathed in a beautific set smile and with crows-feet about the eyes will have a look of rapt attention. You know the look, the one that says, "I know this hurts you more than it does me, but go on, I know it is for my own good." The face a depiction of extreme good nature until you see the eyes. One look at the eyes; the panic! Stark gibbering madness glitters from them. Dogs will howl, horses run away and mama with junior in her arms will fly for the cyclone cellar. The figure, the raiment, the face, the smile, the crows-feet and - the eyes - "The Listner" - a statue of the coach as he listen! Please pardon the digression. We were speaking of the, well-meaning-people.
The well-meaning-people go their way feeling that they have done the community, team and coach a favor by bringing certain facts to light - facts that are obvious to everybody except to the man who is paid to see them. So they bow out satisfied that Bill Brown will be immediately dropped from the squad.
As for the coach, he goes back into the office and sits down to think. Finding he can't do justice to his thoughts while sitting down he gets up and paces the floor, fists clenched and arms above his head Ajax and lightning but the wilder rath.
His thoughts are lurid and his face and neck are the color of the well known beet. No, he is not thinking of the much criticized Bill Brown, he is thinking of the public in general and certain species in particulr and - er, condeming the adverse fate that has put him in a spot like this. Thank Heaven, the old contract expires in June and if he ever coaches again it will be a team called Bess and Jim and they'll by hitched to a plow. It won't even be William and Mary. No, the coach does not get red from shame. It is from apoplexy caused by the suppression of certain words which are used by ignorant persons who do not have the vocabulary to express themselves otherwise. Ignorant, or not, the coach would like to run down to the main corner and try a few at the top of his voice!