George "Puck" Burgwin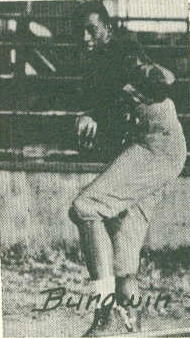 December 13th, 1913-June, 13th, 1951
The Legend.



A look at a sensational athlete.

Puck Burgwin was born on Dec. 13, 1913 in Wadesboro, North Carolina as the only son to Bessie Louise and Walter W. Burgwin. Soon after Puck's birth the family moved north to Homestead, Pa. to gain better employment. Not long after relocating there Mr. Burgwin died of a heart attack. In 1919 Mrs. Burgwin moved her family to Steubenville where they would remain for the rest of their lives.

It didn't take long for Puck to exhibit his talent for athletics for by the time he was in 8th grade he was already branded a star. At Grant Junior High School he ran the 100 yard dash in 10.9 seconds, broad jumped over 18 feet and high jumped 5"4`. Burgwin entered Steubenville High School as a freshman in the fall of 1929. That season legendary Big Red general Charles Quidland Cartledge had plans to use the youngster as a blocking back for the older and spectactular running back, Buddy Coles. However, in his first varsity start Burgwin made the most of a good situation and when given the oval ran for 125 yards in the opening battle. The following week he found 110 yards and two weeks later he blazed for a touchdown on the last play of the game, only to have a bad snap from center foil the P.A.T. and Big Red lost to a powerful Young. Chaney outfit, 14-13. However, he missed the next two games because of an injury and was used only sparingly the rest of the way.

In 1930, Steubenville High would master all of their foes by ending the campaign unbeaten, untied and unscored upon, and would outscore the opposition by the total of 277-0. This was Puck's sophomore year and by the time the dust had settled he had collected 104 points and forced his way through enemy lines for 1,305 yards from scrimmage (in only 9 games). On Sat. Sept. 27th a sell-out crowd dedicated all new Harding Stadium and watched in amazement when their hero scored touchdowns the first two times he carried the leather and gained 182 yards to help whip Pittsburgh Oliver 39-0.

1931 was the high water mark for the fleet footed back. In the opening contest Burgwin netted 222 yards and collected 6 touchdowns in the Red's romp over Zanesville High and from there he never looked back. For the campaign he registered 196 points and ran for the unbelievable yardage of 2,126 (in only 9 games). Five weeks after the Zanesville game the river city boys crushed the Massillon Tigers 68-0 in that schools worst ever defeat. In this mis-match the Steubenville juggernaut rushed the pigskin for a National Record 734 yards which would stand the test of time until it was broken by two yards in 1992. In this game Puck gained 331 yards, scored 7 touchdowns and kicked 1 extra point. Kicker Steve Rybalt put his toe to 13 kickoffs that night. Puck also had 314 stripes against Columbus Central and 301 quick steps vs Canton's famous Bulldogs.

In 1932 George Burgwin was voted team captain by his mates and when the season had ended the boy the stadium crew had nicknamed "Twenty Grand" after the horse that had won the 1931 Kentucky Derby, had amased 139 points and found 1,754 from scrimmage (in only 8 games). Going into the last brawl of the schedule with Erie East Pa. who was on a 17 game win streak, Coach Cartledge speculated,"They`ll skin us by three touchdowns." But no, Burgwin rambled and slashed for 257 yards for the 14-0 victory before over 10,000 Thanksgiving Day fans to give Cartledge his 100th win.

Puck finished his high school football career with 451 total points (out of the 928 points for the rest of the team) and 5,614 yards (in only 28 contests). His teams had won 33 battles while giving up only 3 losses to some of the most brutal outfits the state of Ohio and points beyond had to offer. He was said to stand 6`2 and weigh about 190 pounds by his senior year and had collected 11 varsity letters by the time he graduated, 4 in football, 4 in basketball and 3 in track (he was denied the oppertunity to compete in track as a senior because of his participation in an independent basketball game). He had no baseball letter due to the fact that Big Red did not offer the sport at the varsity level in that era.

Hall of fame coaching legend Paul Brown once remarked that,"Puck Burgwin had speed when we didnt know what speed was. Burgwin was one of the top three running backs I have ever had the pleasure to watch on the field."
His friends called him "Big Train" and when visiting teams would travel to the "Ville" for a game they would never call the place Harding Stadium, but "Burgwin Speedway." Puck later played semi-pro baseball and as the story goes he could lay down a bunt and get to first base before the ball hit the ground! lol.
I could go on and on but I think I will stop here for now. Remember, Puck Burgwin was a RECORD MAKER not a record breaker!!!

Puck died on June, 13, 1951. He was found dead in his home at 2:39 am, several hours after he had received medical attention at the Ohio Valley Hospital. He had gone there with chest pains and they told him he had indigestion and gave him baking soda and sent him home where he died of a heart attack.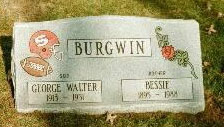 Mr. Burgwin's monument in the Union Cemetery.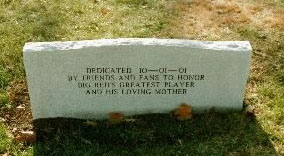 Special thanks to Mike Stone for the writing of this page.