| | | | | | | | |
| --- | --- | --- | --- | --- | --- | --- | --- |
| Head Coach | Yrs | Season(s) | Gms | Wins | Loses | Ties | Win % |
| No Recorded | 6 | 1900-02, 04, 1911, & 1914 | 34 | 22 | 7 | 5 | 69.8% |
| Walen | 1 | 1903 | 7 | 3 | 2 | 2 | 50% |
| James Simmons | 1 | 1905 | 6 | 4 | 1 | 1 | 75% |
| No Team Fielded | 1 | 1906 | 0 | 0 | 0 | 0 | 0% |
| Jim Banfield | 1 | 1907 | 7 | 2 | 4 | 1 | 35.7% |
| M.E. Eberhart | 2 | 1908-09 | 5 | 2 | 2 | 1 | 50% |
| N.E. Miller | 1 | 1910 | 9 | 3 | 4 | 2 | 44.4% |
| Rufus Gilbert | 1 | 1912 | 7 | 4 | 3 | 0 | 57.1% |
| M.L. Parsons | 1 | 1913 | 8 | 7 | 1 | 0 | 87.5% |
| Rich Hilderbrand | 1 | 1915 | 10 | 5 | 5 | 0 | 50% |
| John Brandt | 2 | 1917-18 | 10 | 5 | 4 | 1 | 52.6% |
| Charles "Punque" Cartledge | 22 | 1916, 1919-40 | 189 | 140 | 38 | 11 | 76.9% |
| Joe Maley | 1 | 1940 | 8 | 2 | 6 | 0 | 25% |
| Mel Knowlton | 1 | 1941 | 9 | 2 | 7 | 0 | 22.2% |
| Howard Brinker | 3 | 1942, 1946, & 1948 | 29 | 17 | 9 | 3 | 63.7% |
| Bill Ellis | 2 | 1943-44 | 20 | 12 | 8 | 0 | 60% |
| Fortune Sullo | 1 | 1945 | 10 | 0 | 9 | 1 | 5% |
| Ang Vaccarro | 1 | 1946 | 1 | 0 | 1 | 0 | 0% |
| Ray Hoyman | 10 | 1947, 1949-53, & 1960-63 | 99 | 63 | 34 | 2 | 64.6% |
| Bill Abraham | 2 | 1954-55 | 20 | 6 | 13 | 1 | 32.5% |
| Hal Paul | 4 | 1956-59 | 40 | 22 | 18 | 0 | 55% |
| Abe Bryan | 9 | 1964-72 | 90 | 59 | 30 | 1 | 66.1% |
| Tom Gardner | 2 | 1973-74 | 20 | 9 | 11 | 0 | 45% |
| Bill Bohren | 3 | 1975-77 | 30 | 14 | 15 | 1 | 48.3% |
| Jerry Harris | 3 | 1978-80 | 30 | 14 | 14 | 2 | 50.0% |
| Bob Hedmond | 2 | 1981-82 | 22 | 18 | 4 | 0 | 81.8% |
| Reno Saccoccia | 33 | 1983-present | 424 | 355 | 68 | 0 | 83.7% |
| Totals | 116 | 1900-present | 1,143 | 791 | 316 | 36 | 70.7% |
Charles Q. "Punque" Cartledge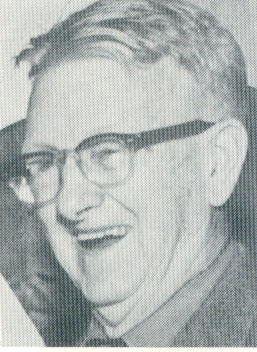 1916, 1919-1939.
Coach Punque Cartledge will go down, with out doubt, as Big Red's greatest coach of all time. He piloted 5 state title teams and was responsible for bringing the Red from an average local team to a national powerhouse. He took on all comers and had many monumental victories in his storied career. Cartledge was loved by his players and repected by his peers...the true mark of a great coach.
Coach Cartledge's teams outscored their opponents 3,772 to 870.
Joe Maley
1939-1940.
Coach Maley had the unimaginable task of following in the footsteps of Coach Cartledge. He coached a total of 17 games and was clearly in over his head. The biggest victory of his career was the 13-0 upset of Dayton Stivers in 1940.
Coach Maley's teams were outscored by their opposition 78 to 308.
Mel Knowlton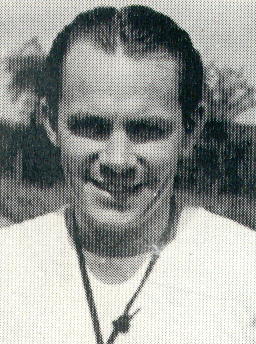 1941.
Coach Knowlton only coached one year for the Big Red and was 2-7, but he did go on to further success after leaving Steubenville. From 1946-69 Knowlton served as head football coach at Alliance High School where his teams compiled a 24-year record of 150-85-8. His team captured the state championship in 1958. He was named Ohio Coach of the Year in 1954 and twice Stark County Coach of the Year. Knowlton served as president of the Ohio High School Football Coaches' Association in 1955 and was named to that group's Hall of Fame in 1972. After retiring from coaching he remained as athletic director at Alliance until 1978. He was inducted into the Miami Hall of Fame in 1981.His biggest victory at Big Red was a 33-13 win over Dayton Stivers.
Coach Knowlton's teams were outscored by their opposition 70 to 249.
Howard Brinker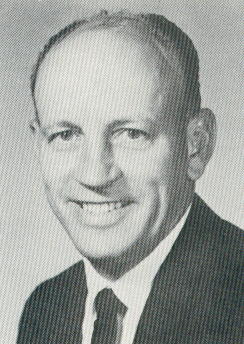 1942, 1946, & 1948.
Coach Brinker led the Red on 3 different occasions that were interupted by WWII. His 1942 team was one of the greatest teams in SHS history. He returned after the war to guide the 1946 team, and then returned once more in 1948. His biggest victory would most likely be the '42 win over Canton McKinley.
Coach Brinker's teams outscored their opponents 670 to 359.
Bill Ellis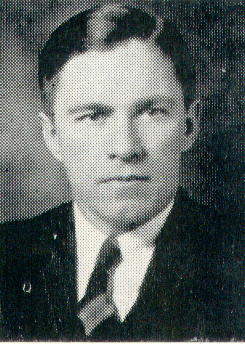 1943-1944
Coach Ellis ran the show for two seasons and had some highs and lows during that time, but sitll finished with a 12-8 record. His biggest win would be the inaugural victory over Catholic Central in 1945.
Coach Ellis' teams outscored their opponents 359 to 241.
Fortune Sullo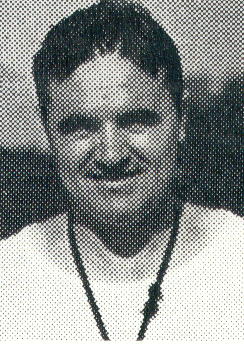 1945
Coach Sullo has the unfortunate distinction of having the worst record in Big Red history and only coached one year. Ironically his only non-loss was a 7-7 tie with powerhouse Massillon.
Coach Sullo's teams were outscored by their opposition 19 to 218.
Ang Vaccaro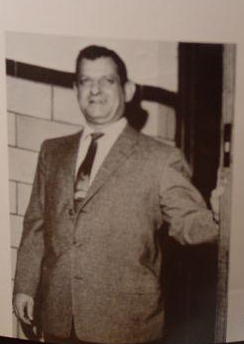 1946
Coach Vaccaro had only a one game appearance as Head Coach of the Big Red when he filled in for Coach Brinker who had not yet returned from action in World War II. Coach Vaccaro lost his game to rival CCHS 2-0, but most Big Red fans will remember him for his years as Principle, Vice Principle, Head basketball coach, Head baseball coach, and teacher.
Coach Vaccaro's team was outscored 2-0 by the opponent.
Ray Hoyman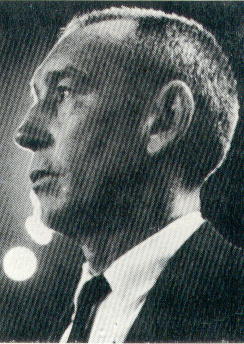 1947, 1949-1953, & 1960-1963


Coach Hoyman led the Red for 10 seasons and produced some very good teams...one of which was the 1951 team who many feel is the greatest team in school history. Also his 1962 squad came within a whisper of the state title. His biggest victory is probably the 63-6 licking his '51 team put on Canton McKinley...one of the Pups worst losses ever.
Coach Hoyman's teams outscored their opposition 2,232 to 1,539.
William Abraham
1954-1955.
Coach Abraham was only in Steubenville for two years and left with a disappointing mark of 6-13-1. His biggest win was in the last game of his tenure as he guided the Big Red to a 39-20 romp over the Weir High Red Riders.
Coach Abraham's teams were outscored by the opposition 235 to 372.
Hal Paul
1956-1959


Coach Paul took over a downtrotten Big Red program and improved each year. His 1959 team only lost two hard-fought games to Warren Harding and Massillon respectively. His greatest triumphs came via the two game sweep of Canton McKinley during the '58 & '59 seasons.
Coach Paul's teams outscored the opponents 883 to 545.
Abe Bryan
1964-1972
Coach Bryan was one of Big Red's most widely respected coaches. During his tenure he was instrumental in establishing the OHSAA playoff format as President of the Ohio Coaches Association, spearheaded Big Red's membership into the All American Conference, and was the catalyst for the expansion of Harding Stadium. His teams faired very well against some of the toughest competition in school history. His biggest victories would probably be the two times he knocked Canton McKinley from the top spot in the state on fantastic finishes.
Coach Bryan's teams outscored their opponents 1,754 to 1,169.
Tom Gardner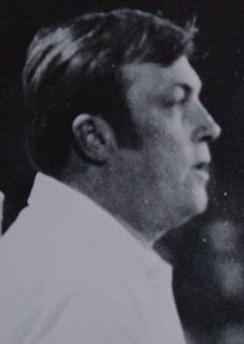 1973-1974
Coach Gardner lasted two season for the Red and finished with a 9-11 record. His biggest win was the 12-9 victory over Catholic Central during the 1974 campaign.
Coach Gardner's teams were outscored by their opposition 313 to 364.
Bill Bohren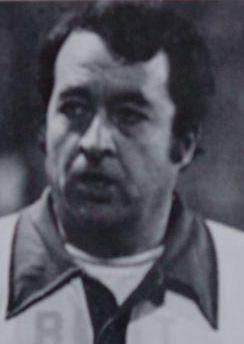 1975-1977
Coach Bohren rode into town and tried to resurrect the Big Red program to compete in the rugged AAC. His 1976 team did just that by recording a 7-2-1 record. 1977 was marked with high hopes, but the Red stumbled to a 2-8 record. Coach Bohren's biggest victory would be the 16-7 victory over Canton McKinley @ Fawcett in 1976.
Coach Bohren's teams outscored their opponents 439 to 379.
Jerry Harris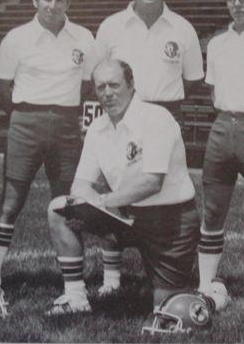 1978-1980
Coach Harris followed Coach Bohren and had similar results as he had his best season in the middle of his 3 years on the job. His 1979 team finished at 7-3 and had two narrow losses. Coach Harris' biggest Big Red victory would be the 15-8 win over Niles McKinley.
Coach Harris' teams were outscored by their opposition 334 to 414.
Robert Hedmond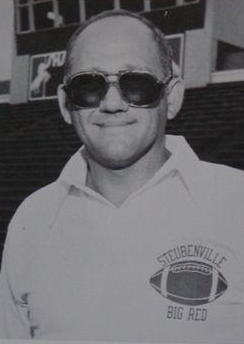 1981-1982
Coach Hedmond came in and instantly turned the Big Red program around. His first year resulted in Big Red's first ever birth in the OHSAA playoffs. His second year marked the Red's first undefeated season since 1935 and Big Red's first ever home playoff game. Coach Hedmond's biggest victory would be the 7-6 win vs. Dover in 1981 which sent the state the message that the Big Red was back.
Coach Hedmond's teams outscored their opponents 481 to 184.