vs.
~The Steubenville City Championship~
The Big Red-Central rivalry started in 1943 with a 25-0 Big Red victory and ended in 2000 with the Red on top by the score of 21-0. In between were some very memorable games that saw Big Red come out with a 41-16-1 advantage in the series.
Big Red posted 17 shutouts in the games while the Crusaders had 6. Big Red outscored Central by the count of 1,085 to 514 for an average margin of 19-9. There was a 0-0 tie during the fifth game of the 1953 season. There were 3 one point games in the series, all by the score of 7-6, with Big Red winning in 1979 and 1996, and the Crusaders winning in 1944. 1946 featured a 2-0 win by Central in the only season opening game of the rivalry. There were also 13 other contests decided by a touchdown or less.
Friday, October 22, 1943: Big Red 25, Central 0
In this initial matchup between the two schools there was 5,343 people on hand to watch Big Red defeat a scrappy Crusader squad. Big Red had entered the game at 3-2, while Central came in at 3-1. The first Big Red strike came in the 2nd quarter as Dick Roush burst over for a 1 yard TD run; the PAT failed. The 3rd period saw Big Red march down the field with Dick Fletcher providing the 1 yard TD run, and again the PAT failed. Big Red put the final nails in the coffin in the 4th quarter with a 35 yard TD run by Roush and a 28 yard TD run by Fletcher. The Big Red defense held Central standout Tom Dugan in check for the entire game.
First Downs: BR-19, C-6
Rushing: BR-315, C-52
Passing: BR-0/0 0 yds, C-5/14 74 yds

Friday, November 17th, 1944: Big Red 6, Central 7
On a cold and soggy field the two teams met during the last week of the season and battled to a nailbitter that was decided on the PAT of CCHS's Alfred Owen. Owen's conversion came in the 4th quarter after the Crusaders scored on a 5 yard halfback pass from Owen Mort to Bucky Maloney. Big Red answered right back on the next possession as halfback Joe Gilliam heaved a 70 yard TD pass to James Robinson. Big Red's PAT failed however, and the Crusaders hung on for their first victory in the series. 5,174 fans braved the elements to watch the struggle, as the two teams combined for numerous fumbles and penalties. Central finished the year at 8-1, while the Red fell to 5-5.
No stats were reported for this game.
Friday, November 16th, 1945: Big Red 0, Central 37
Big Red entered this game as just a shadow of the past as it limped in with a 0-8-1 record and was set to finish the worst ever grid campaign in the school's illustrious history. There was no mercy from the Crusaders who punished the Red in every period. 6,816 fans saw Central's Frankie Cortez score the first of his 3 TD's in the first quarter as he stormed over from the one. Central's Tom Dugan scored from the 4 yard line in the 2nd stanza as they took a 12-0 lead to the visiting locker room. The 3rd quarter was highlighted by Cortez's 46 yard run to paydirt and Dugan's 13 yard run. Central closed out the year at 7-3.
First Downs: BR-4, C-20
Rushing: BR-50, C-449
Passing: BR-3/10 12 yds, C-1/6 13 yds
Friday, September 13th, 1946: Big Red 0, Central 2
For the only time in series history the game was played as the opener for both teams in front of a nearly full crowd of 8,988 souls, which at the time was a Steubenville attendance record. Prior commitments was the reason for the switch to game one. The game was marked by turnovers and penalties which are not uncommon for an opening affair. Both teams had their chances to score, but bad breaks would halt drives into enemy territory. Central's 2 point margin of victory came in the opening quarter as CCHS quarterback Bob Baldwin threw a desperation pass into the endzone on 4th down and Big Red's Pete Polovina intercepted it and was downed. The officials ruled it a safety. Central then began to protect its lead. Big Red's deepest penetration came in the 4th period at the Central 28 yard line, but Polovina was inches short on a 4th down attempt.
First Downs: BR-6, C-6
Rushing: BR-182, C-143
Passing: BR-1/5 10 yds, C-1/1 7 yds
Penalties: BR-8 for 50, C-7 for 45
Friday, November 14th, 1947: Big Red 64, Central 6
Big Red erupted for 10 touchdowns in this clash as a throng of 8,500 spectators looked on to witness the Red raise its record to 6-3. Three years of frustration were taken out on the Crusaders as this marked the most points ever scored in the series. Big Red scored in all most every way possible in the victory.....Preston Robinson got things rolling with a 6 yard TD run in the opening quarter, and then followed that with a 42 yard pass reception from qb Querino Lelli. The 2nd quarter witnessed Bob Stratton's 64 yard punt return for a TD and another Lelli TD pass. The scoring for the half was closed out with a Pete Polovina 37 yard TD interception return. The 3rd quarter saw Stratton return another punt for a TD and Polovina another INT for a TD. Stratton added a TD run to his resume and Nick Tsangeos and Polovina closed out the scoring for the Red. The Crusader score came in the 4th on a John Perito 15 yard scamper.
First Downs: BR-8, C-7
Rushing: BR-187, C-95
Passing: BR-5/13 for 138 yds, C-5/14 35 yds
Penalties: BR-8 for 50 yds, C-1 for 5 yds
Friday, November 12th, 1948: Big Red 41, Central 7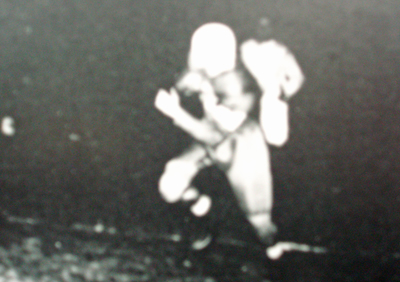 Big Red captured the first ever Steel Bucket Trophy as it hammered the Crusaders by the score of 41 to 7 in front of 7,500 fans. The scoring got under way early and often as Harry Thompson galloped in from 7 yards out. In the 2nd quarter Thompson again scored from 6 yards out. Larry Jeter picked off a pass and returned it to paydirt to close out the 1st half scoring.
Big Red took the 2nd half kickoff and Waddell Snyder scooted in for 5 yards out. Central answered with a 38 yard pass from Joe Dugan to Larry Reed. The kickoff was then returned 85 yards to paydirt by Big Red's Nick Tsangeos, and Dom Zinno closed out the scoring with a 7 yard TD run for the Red. Big Red upped its record to 5-4 with the win.
First Downs: BR-15, C-5
Rushing: BR-266, C-100
Passing: BR-2/5 for 36 yds, C-12/29 for 133 yds.
Penalties: BR-6 for 40 yds, C-6 for 40 yds
Friday, November 11th, 1949: Big Red 33, Central 0
A near capacity crowd of 9,500 saw the Red roll over the Crusaders by a surprising air assault. Big Red retained the Steel Bucket and also captured the new Hub Trophy for the victory. The teams battled to a 0-0 standstill in the opening standza as both defenses held firm. Big Red opened up the air attack in the 2nd as Marvin Washington hauled in a 43 yard strike from QB Geno Lelli. The half ended with Big Red leading 7-0. Lelli again went to work in the 3rd as he found Harry Thompson on a 22 yard TD pass play. Lelli then went back to Washington as the 3rd period ended with a 38 yard TD bomb. Perry Jeter go into the act as he found Washington for a 37 yard TD pass, and then Jeter closed out the scoring with the games only rushing TD---a 7 yard run. Big Red upped its mark on the year to 5-4.
First Downs: BR-12, C-6
Rushing: BR-158, C-97
Passing: BR-4/9 for 116 yds, C-2/13 for 51 yds
Penalties: BR-6 for 50 yds, C-3 for 35 yds
Friday November 10th, 1950: Big Red 46, Central 0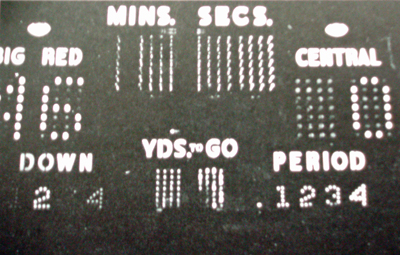 Coach Hoyman continued his mastery over the Crusaders with this blowout victory, while snatching up the 4th consectutive City Championship. A frigid crowd of 9,000 watched as the Big Red runningbacks broke long run after long run. Perry Jeter got things started in the opening period as he bolted 45 yards to paydirt to give Big Red the only points they would need. In the 2nd Frank Gilliam hauled in a 14 yard TD pass from Nick Medves. Two more TD runs were recorded before the half---an 88 yard jaunt by Jeter, and a 16 yard run by Gordon Fletcher, which gave the Red a 28-0 lead at intermission.
After the Big Red Band put on a spectacular halftime show the Stubbers were on the march again. This time Jeter went to the air and found Gilliam for a 79 yard pitch and catch to the west endzone. Harry Thompson added two more TD runs to close out the scoring. Big Red improved to 8-1 with the victory.
First Downs: BR-9, C-5
Rushing: BR-347, C-82
Passing: BR-7/16 for 181 yds, C-3/11 for 12 yds
Penalties: BR- 8 for 100, C-6 for 30
Friday, October 5th, 1951: Big Red 38, Central 0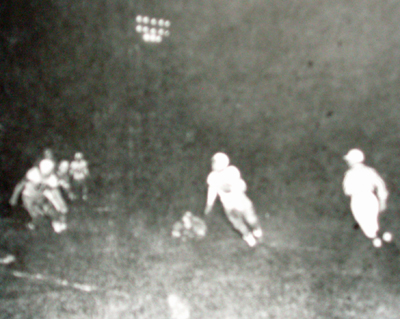 This one was all Big Red. In facing one of the greatest teams in Big Red history the Crusaders put up a noble fight, but it was not nearly enough as the Calvin Jones led squad cruised to an easy City Championship victory before a throng of over 9,000. The story of this game was the Big Red Defense which limited Central to -1 yard of total offense for the entire game. The Big Red offense go things started in the 2nd quarter as Clarence Lawson burroughed off tackle for a 4 yard TD run. The half ended with Big Red leading only 6-0, but the game was never really in doubt. The 3rd quarter saw the Red put up 4 touchdowns, the first two on long runs by Eddie "Pumpkin" Vincent of 35 and 76 yards. Jim Prayso added a 35 yard interception return for a TD and Benny Bunch scooted 48 yards for six more. The first play of the 4th quarter witnessed Willie Stinson on a 27 yard effort to paydirt.
First Downs: BR-12, C-2
Rushing: BR-367, C- -31
Passing: BR-4/9 for 36 yds, C-4/11 for 30 yds
Penalties: BR-7 for 65 yds, C-2 for 10 yds
Friday, October 10th, 1952: Big Red 32, Central 6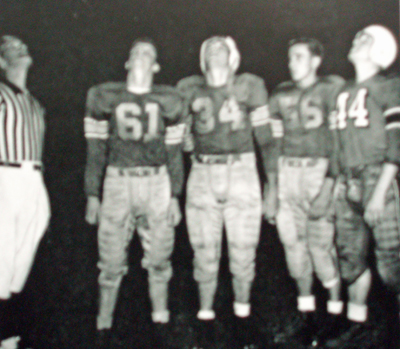 Big Red limped into this game at 2-2 but got healthy in a big way before 8,000 at Death Valley. Steubenville captured the city title for the 6th straight time and was led by the defense's 4 interceptions. The scoring got under way in the 1st quarter as Benny Bunch had a 2 yard TD run. Central answered right back in the 2nd with a 1 yard TD run by Owen Mullholland. The teams were knoted at 6 at the break. In the 3rd quarter Big Red began to wear down the Crusaders and Clarence Wickham eventually took it over from the one. Bill Fields notched a 4th quarter TD reception from Nick Medves and the deal was sealed when Barry Bickerstaff returned an interception 25 yards for a score. The final TD was pushed across by Fred Hudson's 6 yard effort.
First Downs: BR-17, C-10
Rushing: BR-222, C-143
Passing: BR-1/3 for 25 yds, C-2/10 for 32 yds
Penalties: BR-14 for 90 yds, C-9 for 55 yds
Friday, October 16th, 1953: Big Red 0, Central 0
8,000+ fans witnessed the only tie in series history as Big Red and Central battled for 4 quarters with neither gaining an advantage. Central, having lost the last 7 meetings with the Big Red, considered it a moral victory as they left the field in jubilation. Big Red, who entered the game at 3-1, left the field in shock. Central's deepest threat was to the Big Red 8, but was thwarted by a fumble. Big Red reached the Crusader 16, but as time was running out in the 2nd quarter Big Red's 4th down pass into the endzone fell incomplete. The Big Red Band dazzled the halftime crowd by playing the Notre Dame fight song and forming the letters "CHS" to salute the CCHS faithful. Then the band formed a giant "S" and played the alma mater. There were no serious threats by either team in the 2nd half.
First Downs: BR-13, C-3
Rushing: BR-220, C-62
Passing: BR-2/9 for 9 yds, C-0/4 for 0 yds
Penalties: BR-4 for 20 yds, C-2 for 20 yds
Monday, October 18th, 1954: Big Red 7, Central 13
The Crusaders ended the Big Red domination on a rare Monday night contest...possible the only one in Big Red history...via ground and air assault. The game was moved from Friday after a downpour made the field unplayable. Central came into the game on a 4 game winning streak, while Big Red had just managed one victory, 7-0 over Cleveland East Tech. Surprisingly Big Red took an early lead in the first quarter with John White scoring from 2 yards out. Central drew even in the 2nd with a 3 yard run by Gilbert Carducci. It appeared that the half would end dead-locked, but Central QB Joe Prest orchastrated a time-defying rally that put the ball on the one foot line with 12 seconds left. The Crusaders handed the ball to their big back Mieczkowski for the 1 yard TD run. In the 2nd half Big Red reached the Crusader 2 yard line, but a fumble haulted the drive.
First Downs: BR-9, C-15
Rushing: BR-110, C-151
Passing: BR-4/8 for 24 yds, C-5/13 for 109 yds
Penalties: BR-9 for 55 yds, C-6 for 50 yds
Saturday, October 29th, 1955: Big Red 12, Central 25
Central used an efficient ground game in chewing up the Big Red before 7,500 people and retained the City Championship for the 2nd straight year. Central QB Joe Prest also made some clutch throws in the victory. Prest started out by hitting Pat Patchen for a 4 yard TD pass in the 1st quarter. Prest again went to work in the 2nd finding Tim Jordan for a 33 yard strike. Big Red responded with a 41 yard touchdown run by Tom Haverfield to pull the Red to within 7. Central's Tom Scurti then plowed in from the 2 to give the Crusaders a 20-6 halftime advantage. Central put the game away in the 4th when Prest took it upon himself and scored from 1 yard out. Big Red's Ralph Porter scored on a 1 yard run to round out the nights totals.
First Downs: BR-13, C-15
Rushing: BR-150, C-230
Passing: BR-4/15 for 51 yds, C-3/4 for 54 yds
Penalties: BR-35 yds, C-60 yds
Saturday, October 27th, 1956: Big Red 7, Central 34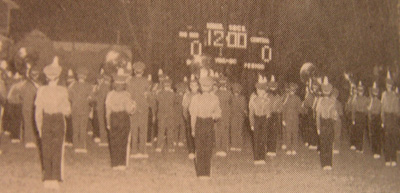 CCHS kept its lock on the city title by cruising over Steubenville before 7,500 fans. The game stayed tight until the 4th quarter when the Crusaders erupted for 3 touchdowns. The contest started with Central's Ernie Cicone recovering a blocked Big Red punt in the endzone for a touchdown. Big Red recovered in the 2nd quarter as Ken Becker found Bob Yurjevic streaking for a 25 yard TD pass play. The half ended with the teams locked a 7. Central came out in the 3rd and asserted its ground game, moving down the field with Gene Miltko capping the drive with a 4 yard TD run. The Crusaders struck again early in the 4th as senior standout QB Joe Prest found Ernie Cicone for a 24 yard TD strike. Prest then later added a 33 yard TD run and Pierro closed out the onslaught with a 25 yarder.
First Downs: BR-6, C-15
Rushing: BR-36, C-214
Passing: BR-4/14 for 75 yds, C-6/13 for 125 yds
Penalties: BR-4 for 40 yds, C-7 for 75 yds
Friday, November 15th, 1957: Big Red 19, Central 13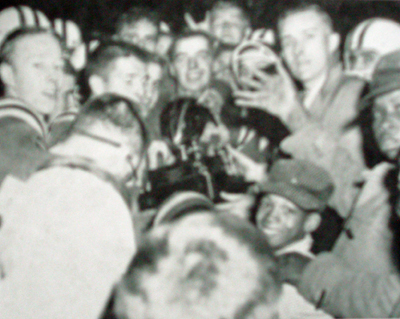 As the fog rolled into Death Valley the Big Red broke a 3 year drought and recaptured the city title in front of 7,000 faithful fans. Big Red runningback Dave Cunningham got things going early as he broke a couple of long 2nd quarter TD run of 65 & 66 yards respectively. The speedster also tossed a TD pass in the 4th quarter to Rufus Simmons of 31 yards. In between Cunningham's runs and pass play, Central had 68 & 23 yard TD passes from Joe Polshaw to Paul Vargecko and Rich Saccoccia. The victory allowed Big Red to finish at 5-5 which is the best finish since Ray Hoyman left after 1953's 8-1-1 season.
First Downs: BR-10, C-10
Rushing: BR-240, C-131
Passing: BR-2/5 for 47 yds, C-7/9 for 115 yds
Penalties: BR-5 for 40 yds, C-6 for 60 yds
Friday, November 14th, 1958: Big Red 8, Central 2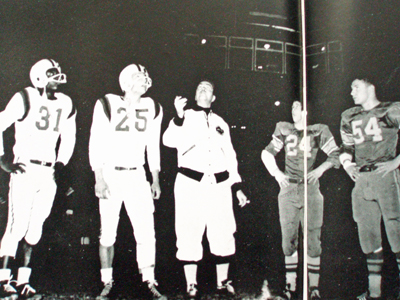 A Big Red goal line stand with a little over a minute remaining on the clock allowed the Red to retain the City Championship and finish the season with a 7-3 record. Central had gotten down to the Big Red 4 yard line in the waning moments, but the D slammed the door as Polshaw's pass fell incomplete in the endzone. Big Red then ran out the clock and took a safety on the game's final play. Big Red had taken the lead early in the 4th on a 29 yard TD pass from Jim Roach to Wally Neel. The touchdown was the first scored against Central's first string in over 6 games. The contest for the most part was a defensive one with neither side substaining any long drives. A crowd of 7,500 packed the stadium to watch the schoolboy 11's battle it out as both teams entered the game with 6-3 records.
First Downs: BR-9, C-12
Rushing: BR-103, C-174
Passing: BR-3/10 for 64 yds, C-1/2 for 13 yds
Penalties: BR-3 for 25 yds, C-2 for 20 yds
Friday, November 20th, 1959: Big Red 26, Central 0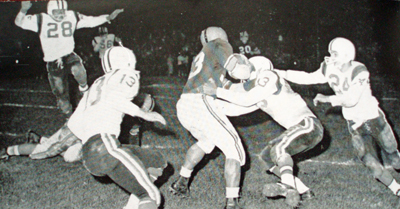 Big Red capped off its best season since 1951 with a decisive victory over Catholic Central before a packed stadium of 9,000 frenzied fans. The Red's only two losses of the campaign came to Massillon and a nail-biter to Warren Harding, both early in the year.
Big Red back Wally Neel got the only points that were needed when he sprinted for a 15 yard run early in the opening frame. After the Big Red D stopped CCHS on 3 downs they were forced to punt. Steubenville's Bobby Johnson fielded the boot and raced 57 yards for the games 2nd touchdown. Big Red got on the board again right before intermission as Tom Sobolewski hauled in a 27 yard Neel TD pass. Any doubt about the outcome was quickly resolved in the 3rd quarter when Tom Cunningham burst through from 2 yards out to hand the Stubbers a 26-0 lead. Central biggest threat of the game came when they advanced to the Big Red 17, but was quickly extinguished as the defense wrapped up Paul Kenny for an 8 yard loss.
First Downs: BR-13, C-6
Rushing: BR-246, C-90
Passing: BR-4/8 for 110 yds, C-1/12 for 18
Penalties: BR-3 for 45 yds, C-3 for 26 yds
Friday, November 18th, 1960: Big Red 22, Central 14
Big Red entered this contest at 4-4-1, but played a very demanding schedule which paid dividends vs. the 6-2 Crusaders before 8,000 fired up fans.
Coach Hoyman, who was admitted to the hospital earlier in the week, left his sick bed to coach the game and then promtly returned to the hospital as soon as the victory was secure. It looked like coach Hoyman could have left at halftime as Big Red stormed out for an early 22 point lead. Paul Cunningham got things started for the Red with a 21 yard TD run in the opening frame...Tom Sobolewski's pass to Bill Hoyman added the 2 point conversion. In the second quarter Dick Stratton added TD runs of 45 and 37 yards respectively. Big Red held the 22-0 lead until the 4th quarter when Central's Tom Erosovich plowed in from the one, and then added another after the Crusaders blocked a Big Red punt. The Big Red defense held on for the final 8 minutes to preserve the victory.
First Downs: BR-9, C-12
Rushing: BR-261, C-157
Passing: BR-1/2 for 31 yds, C-4/16 for 77 yds
Penalties: BR-3 for 35 yds, C-3 for 35 yds
Friday, November 10th, 1961: Big Red 12, Central 0
As sub-freezing temperatures set in on Harding Stadium, the crowd of 7,266 watched Big Red win its 5th straight City Championship. The Big Red defense held CCHS star QB "Slingin Sam" Fornsaglio to no TD passes, a feat that was not duplicated in Central's previous 9 starts. Big Red rode the back of junior Harry "The Iron Horse" Wilson as he scored both of Big Red's TD's and accounted for a large chunk (104 yards) of Big Red's 228 yards on the ground. The other chunk (88 yards) belonged to his stable mate Ray Terry, who shared the carries. Coach Hoyman remained undefeated vs. Central in 6 meetings. Both bands performed spectacular halftime routines.
First Downs: BR-15, C-11
Rushing: BR-228, C-19
Passing: BR-5/5 for 34 yds, C-13/23 for 141 yds
Penalties: BR-6 for 70 yds, C-4 for 27 yds
Friday, November 10th, 1962: Big Red 20, Central 6
Coming in after a loss that cost Big Red the AAA state title, the team rebounded with a 20-6 victory that allowed the Red to finish at 9-1 and 7th in the final AP poll. The Crusaders showed no mercy though as they battled SHS tough throughout the game. Big Red's allstate TB Harry "The Iron Horse" Wilson broke a 2nd quarter scoreless tie with a 70 yard TD dash in the ankle deep mud that was the result of a day long down pour. The game was almost cancelled, but a meeting of the coaches before the game saved the contest. To make conditions worse, the game was played in temperatures hovering right above freezing which made half of the expected 10,000 fans stay at home and listen on WSTV. Wilson accounted for 241 yards of Big Red's 266 yards of rushing. The Crusaders entered the game with an 8-1 record only losing to defending State Champ Niles McKinley. Central featured standout Danny Abramowicz as he kept the Red at bay drilling deep punts into Big Red territory. Wilson went to work again in the 3rd quarter as he broke another long TD run of 69 yards. Ray Terry added some insurance with a 4 yard TD run before Central's Virgil Monti closed out the scoring with a 4 yard TD run of his own. Due to field conditions, both bands were unable to perform.
First Downs: BR-8, C-7
Rushing: BR-266, C-200
Passing: BR-0/0 for 0 yds, C-0/1 for 0 yds
Penalties: BR-2 for 10 yds, C-1 for 5 yds
Friday, November 8th, 1963: Big Red 0, Central 8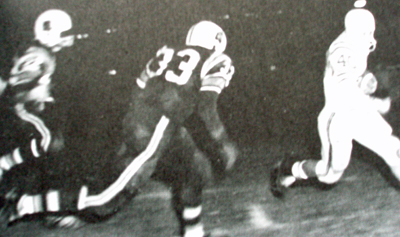 The Crusaders took advantage of a high snap over the punters head to recover a fumble deep in Big Red territory which would lead to the games lone touchdown. Central's Fred Bell stretched over from the 4, and John Haynes added the 2 point conversion to give CCHS all the points that they would need in the annual showdown. Big Red fought to the Crusader 15 in the wanning moments, but a 4th down pass fell incomplete and with it the chance for a tie. The contest was witnessed by about 6,000 fans in ideal early Novermber conditions. Big Red finished the season at 2-8, while the Crusaders finished up with a late season surge.
First Downs: BR-9, C-9
Rushing: BR-115, C-139
Passing: BR-3/13 for 46 yds, C-0/6 for 0 yds
Penalties: BR-3 for 35 yds, C-6 for 60 yds
Friday, November 13th, 1964: Big Red 6, Central 36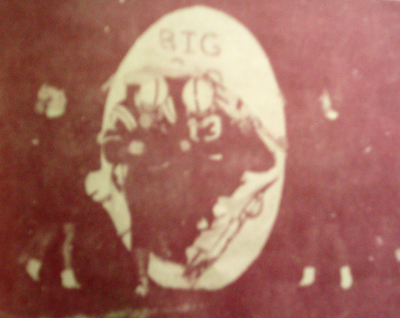 Heavily favored CCHS was shocked by a first quarter TD by Big Red's Mike Palmer, but then unleashed a 5 TD barrage to secure their 2nd straight City Championship. A crowd of 7,507 watched as a 4-5 SHS team battle the 8-1 Crusaders under clear 45 degree temperatures in Steubenville Big Red's Harding Stadium. Central standout RB Buster Yannon, who finished the season with 1,732 yards from scrimmage, got the Crusaders off and running on a 2nd quarter march that was finished with Joe Crocetti's 1 yard TD run. That was followed by a Yannon TD run of 3 yards with just 27 seconds left in the half. Big Red tried to get some 2nd half momentum but after failing on a 4th down and inches gamble at the Central 47, the Crusaders tacked on another Yannon TD run to pretty much seal the victory. Crocetti and Yannon each added TD runs in the final 14 minutes of the game to round out the scoring.
First Downs: BR-5, C-12
Rushing: BR-33, C-209
Passing: BR-6/20 for 67 yds, C-4/8 for 115 yds
Penalties: BR-6 for 50 yds, C-8 for 100 yds
Friday, November 12th, 1965: Big Red 26, Central 0
A powerful Big Red squad ripped through Catholic Central before 7,681 fans and regained the City Championship after a 2 year drought. Big Red entered the fray at 7-2. dropping two heartbreakers to Massillon and Warren, and looking to finish in the top 10 of AAA. Big Red's Bob Booth returned a punt 57 yards for the initial Steubenville score and that lead of 6-0 was carried into the half. In the 3rd quarter Bob Smith broke over from the 3 to provide some breathing room, and then added another 1 yard TD run at the start of the 4th quarter. Don Osby added a 28 yard dash to finish up the scoring. All-Ohio back Mike Palmer, who was injured in the Warren game, only played on one play for the Red when he entered the game as a flanker and received a standing ovation. Central's deepest penetration came in the final moments of the game after a bad snap by Big Red gave the Crusaders the ball at the SHS 12 yard line.....four plays later they were at the 24.
First Downs: BR-15, C-8
Rushing: BR-229, C-43
Passing: BR-6/11 54 yds, C-3/13 for 44 yds
Penalties: BR- 8 for 41 yds, C-1 for 5 yds
Friday, November 11th, 1966: Big Red 34, Central 8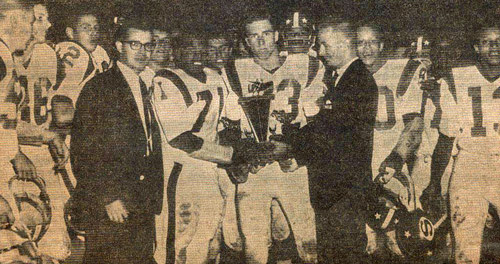 Coming off the most shocking defeat in school history which cost them the number one ranking and AAA state title, the Big Red came in and whipped CCHS by the count of 34-8 before a near capacity crowd of 9,805. Big Red finished the season at 9-1 while the Crusaders wrapped it up at 6-3-1. The game featured two strong running attacks, but Big Red was able to capitalize on the opportunities that it gave itself. All-State RB Mike Palmer put the Red in front with a 2 yard run in the 2nd quarter and added a 2 point conversion. Central answered right back with a Lou Julian 4 yard TD run and an Ed Kliner 2 pointer to tie the game at eight. Steubenville then went on to two more long TD's before the half....a Pat Vaccaro to Dwight Sims 38 yard strike, and a Palmer 64 yard juant. Big Red led 22 to 8 at the half. Palmer took a Vaccaro pass for 36 yards to set up Big Red's 3rd quarter touchdown as Lew Titus bowled over from the three. Palmer closed out the scoring with a 86 yard run down the left sidelines.
First Downs: BR-12, C-14
Rushing: BR-296, C-200
Passing: BR-4/10 for 65 yds, C-7/14 for 101 yds
Penalties: BR- 6 for 60 yds, C-3 for 35 yds
Friday, November 10th, 1967: Big Red 18, Central 0
Once again Big Red entered the contest on the heels of losing the number one ranking and the AAA state title, and once again Big Red mustered up enough offense to defeat its city rival before a crowd of 8,164 patrons. The story of the game was the Big Red defense who shut down the Crusaders repeatedly throughout the game. Half back Bob Sims got Big Red on the board with a 1 yard TD plunge early in the opening standza. QB Dave Corsi connected with Jim Smith for a 12 yard TD pass midway through the 2nd quarter and Big Red held a 12-0 halftime lead. Early in the 3rd quarter Laverne Carter bolted for an 18 yard TD to make it 18-0, which turned out to be the final. Big Red retired the Jaycee's traveling trophy with the victory.
First Downs: BR-14, C-8
Rushing: BR-166, C-27
Passing: BR-8/11 for 99 yds, C-9/25 for 108 yds
Penalties: BR-7 for 65 yds, C-6 for 68 yds
Saturday, November 8th, 1968: Big Red 8, Central 18
A crowd of 8,000 watched Catholic Central upset Big Red by scoring two late 4th quarter touchdowns in 38 degree temperatures in Steubenville's Harding Stadium. Both Big Red and CCHS entered the game with identical 5-4 records, but the Crusaders played with more intensity. Central drew first blood with the Joe Ferelli to Dave Kearny TD pass in the closing minutes of the 1st half. Big Red answered 30 seconds later with a Craig Misselwitz to Robert Washington 67 yard TD bomb. Big Red tacked on the 2 point conversion on a Misselwitz run and the Red took an 8-6 lead into Cartledge Fieldhouse. The second half was all Central as Ferelli again passed for a TD; this time to Joe Caranfa for 26 yards. Ferelli then danced in from 6 yards out with 2:34 left in the game to seal the victory for the Crusaders and Coach Duff.
First Downs: BR-10, C-15
Rushing: BR-114, C-183
Passing: BR-7/21 for 109 yds, C-8/17 for 104 yds
Penalties: BR-7 for 62 yds, C-4 for 30 yds
Friday, November 7th, 1969: Big Red 32, Central 6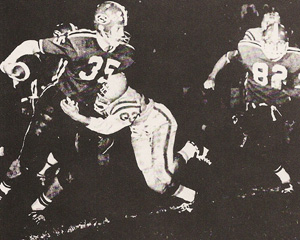 In near perfect football weather a crowd of 8,000 was on hand to see the Stubbers defeat their cross-town rivals in this yearly battle. Big Red was in command throughout and the contest was never seriously in doubt. Big Red QB Jeff Spahn was the main catalyst in the early going accounting for the first 3 Big Red touchdowns. Spahn started off with a 51 yard airial to Rich DeLeonardis at the 6:50 mark of the first quarter which gave the Red a 7-0 lead. Spahn then added a pair of TD runs to his resume as he went in from 9 and 4 yards in the 3rd and 4th quarters. Keith Misselwitz then got in on the passing action as he found Norm Bougard for a 13 yard TD. Central finally found the endzone as Frank Veltro ran in from 8 yards out to trim the lead to 25-6. The Big Red reserves then got in on the scoring with Tim Williams going in from a yard out with 2:25 left in the game.
First Downs: BR-20, C-6
Rushing: BR-263, C-45
Passing: BR-6/13 for 131 yds, C-4/17 for 37 yds
Penalties: BR-7 for 55 yds, C-4 for 30 yds
Friday, November 13th, 1970: Big Red 14, Central 10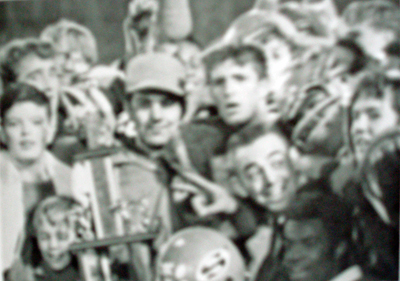 As friday the 13th loomed overhead, a 5-4 Big Red squad outlasted a 6-3 Crusader outfit to end the 1970 gridiron campaign. After torrential rains pounded the region the field was left with standing water and school officials proposed to the visitors of postponing the game, but Central refused. Big Red then took a drastic step and brought in a helicopter to fan the field and dry it out....the helicoper was still present right up until pregame. A fine crowd of over 7,300 still came out despite the weather and cheered on their beloved teams. Central struck first as Emil Ros had a 19 yard field goal at the seven minute mark of the first quarter. After Big Red picked off a Central pass Arnold Johnson took it over from the one to give Big Red the 7-3 lead. That's the way it stood until the 4th quarter when the Crusaders put together a 65 yard drive ending with a Mike Mehalik 2 yard TD run; PAT was good and CCHS lead 10-7 with five minutes to go in the game. Big Red QB Jeff Spahn then put together the best drive of the night for Steubenville, after an excellent return by Herman Davis. Spahn found Chuck Sims for a 6 yard TD pass to put Big Red up with two minutes remaining. The Big Red D then closed out the game stopping Central on downs at midfield.
First Downs: BR-6, C-12
Rushing: BR-49, C-164
Passing: BR-3/6 for 53 yds, C-3/12 for 13 yds
Penalties: BR-1 for 15 yds, C-2 for 20 yds
Friday, October 22nd, 1971: Big Red 8, Central 23
Central came into this game undefeated and ranked number one in the state in both the AP and UPI polls in the AA division of Ohio. Big Red fought hard but found out why the Crusaders are so highly regarded. A crowd of 9,121 watched as the two teams slugged it out. Central went up on a John Colaiacovo 2 yard TD run with a little over a minute to go in the opening quarter. In the 2nd quarter Emil Ros booted a 22 yard field goal and Mike Mehalik scooted for a 23 yard TD run to put the Crusaders up 15-0. Big Red stormed back though as Mike Mavromatis hit Rick Spencer on a 19 yard TD effort and then Mavromatis found Chuck Sims for the 2 point conversion. Central took the 15-8 lead to the half. The game stayed in doubt until the 4th quarter when a Central punt pinned the Red at their own 2 yard line. Mavromatis attempted a pass but was sacked in the endzone for a safety. Big Red free kicked from their 20, but on the first play Central's Mehalik broke free on a 34 yard TD run which put the game away.
First Downs: BR-9, C-13
Rushing: BR-111, C-256
Passing: BR-7/17 for 69 yds, C-1/5 for 11 yds
Penalties: BR-10 fo 105 yds, C-5 for 65 yds
Friday, October 20th, 1972: Big Red 19, Central 0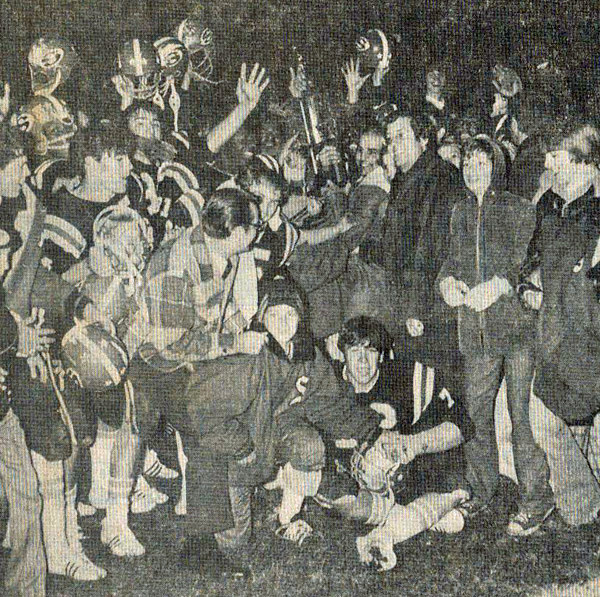 What a difference a year makes. After the Crusaders dominated the Red in last years City Championship game Big Red returned the favor in a big way. Ideal autumn weather greeted the 7,613 fans in Big Red's Harding Stadium. Big Red entered the game at 5-1 with the only loss coming last week at Massillon before 20,000. Big Red All State HB Courtney Snyder put the Red on the board in the 1st quarter with a 1 yard TD run; Rick Spencer added the PAT for the 7-0 lead. Snyder again went to work in the 2nd as he broke free on a 15 yard TD run with a minute to go in the half. After a defensive third quarter, Big Red went to work on a 65 yard drive the culmulated with a Joe Davis 1 yard TD run which effectively ended the contest.
First Downs: BR-19, C-13
Rushing: BR-306, C-49
Passing: BR-4/6 for 12 yds, C-11/19 for 109 yds
Penalties: BR-5 for 55 yds, C-3 for 35 yds
Saturday, October 20th, 1973: Big Red 7, Central 12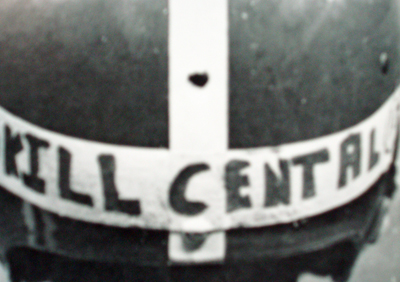 Coach Korab's Crusaders came in as slight underdogs in this contest, but came up big winners when the dust settled on one of the closer affairs of the series. Both defenses were relentless in the opening half as the only scoring came on the foot of CCHS' kicker Vince D'Ortenzio as he booted a pair of field goals to give Central a 6-0 halftime lead. After a fine performance by the Big Red Band, the Red came out in the 3rd and got on the board. Big Red's Ron Runkel was in the right place at the right time to scoop up a fumble for a TD after QB Greg Repella hit Paul Price at the 2 yard line. After the PAT was made Big Red held a 7-6 lead. K.C. Fredley turned in the big play of the game as he intercepted a Repella pass to swing the momentum in favor of the Crusaders. After a time-consuming drive to the Big Red 3 yard line, Reno DiCarlantonio took it over the goal marker to give Central the 12 to 7 victory.
First Downs: BR-6, C-13
Rushing: BR-95, C-247
Passing: BR-3/9 for 53 yds, C-2/4 for 19 yds
Penalties: BR-6 for 47 yds, C-12 for 70 yds
Friday, October 18th, 1974: Big Red 12, Central 9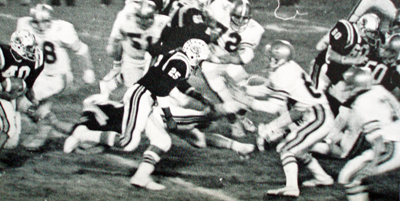 Big Red Coach Gardner reached into his bag of tricks at just the right moment for a touchdown that proved to be the difference in the City Championship game. A chilly crowd of just over 6,000 was on hand to watch a mainly defensive struggle that was in doubt until the final seconds ticked off the clock at Harding Stadium. The first score of the contest took place in the first quarter as Big Red held the Crusaders to a punt and then proceeded to marche down the field. Preston Robinson took it in from the four and the Red led 6-0. Central's big tackle Jim Rosza was called upon to try a field goal after the Crusaders drove into Big Red territory, and his 36 yard effort was true, which cut the lead to 3. SHS then drove down to the Central 28, but was faced with a 3rd and 17. As the final seconds of the first half were ticking down Big Red went to the hitch and pitch. Big Red QB Andy Bryan found Chuck Cowser at the 18 who immediately lateraled the ball to a trailing Anthony DeFrances who dashed in for the TD. The half ended with the Red up 12-3.
The third quarter was a defensive struggle with both teams trying to gain field position. After recovering a Big Red fumble at the 29 the Crusaders pushed over their only TD of the game on a John Mantica 1 yard plunge. The Big Red defense held firm the rest of the game to preserve the victory.
First Downs: BR-8, C-10
Rushing: BR-77, C-99
Passing: BR-3/7 for 69 yds, C-5/13 for 59 yds
Penalties: BR-7 for 64 yds, C-6 for 40 yds
Saturday, October 18th, 1975: Big Red 40, Central 19
Steubenville Big Red burst out to an 18-0 lead in the first quarter and never looked back in front of 7,135 fans who watched the contest last until 10:30 pm. The Big Red Defense, "The Crimson Curtain", got things rolling on the first series when LB Mike Linn popped John Mantica and forced him to fumble. Art Talamine scooped up the fumble a rambled 66 yards for the TD. The defense then forced a punt, which was blocked by the Big Red rush at the 40. Four plays later Larry Jones was taking it to the house from 21 yards out. The Big Red defense then came up with an interception on the following series and Gary Williams capitalized with a 1 yard TD run. Central got back in to it in the 2nd quarter by driving 80 yards in 8 plays; Mantica doing the honors on a 1 yard sneak. On the ensuing kickoff Big Red speedster Tweety Brown took the ball at his own 5 and raced up the middle, cutting to his left and went 95 yards untouched for the touchdown. CCHS would try to hang in there as they drove 67 yards for their next TD, a Mantica 27 yard run. Big Red, unfazed, took over as QB Gary Williams lofted a 49 yard bomb to lightning-quick Brian Dixon to give SHS a 32-13 halftime lead. Big Red put the game away in the 3rd as they recovered a fumble at the Crusader 40 and 6 plays later Williams went in on a 13 yard scramble. Central got one more TD in the final moments of the 4th quarter as Andy DiPalma received a punt and sprinted 45 yards to paydirt.
First Downs: BR-9, C-13
Rushing: BR-147, C-30
Passing: BR-2/6 for 61 yds, C-11/22 for 187 yds
Penalties: BR-11 for 112 yds, C-5 for 30 yds
Saturday, October 23rd, 1976: Big Red 42, Central 0
In one of the most dominating performances of the series Big Red smothered Catholic Central before 7,200 witnesses. Big Red TB Bob Rush put on quite a show as he ran for 186 yards, with 115 coming before the half. Big Red retired the traveling trophy with the performance. Big Red's defense got the rout started as they backed the Crusaders up on their first series and then blocked the punt on 4th down. John Mavromatis took it over from the two. Mavromatis repeated his 2 yard effort on SHS' next series to give Big Red a 14-0 first quarter lead. In the 2nd quarter Sam Baldwin found the endzone after running for 16 yards and Rush got his only TD of the game on an 11 yard scamper. The half ended with the Red holding a commanding 28-0 lead. Big Red picked up a safety in the 3rd quarter and also added a Lenny Brown 18 yard TD run. The scoring was closed out on Mike Edward's 2 yard TD fumble recovery with four minutes to go in the game. Big Red's defense held Central to -39 yards of total offense.
First Downs: BR-20, C-7
Rushing: BR-385, C-(-50)
Passing: BR-1/5 for 3 yds, C-2/10 for 11 yds
Penalties: BR-11 for 115 yds, C-10 for 102 yds
Saturday, October 23rd, 1977: Big Red 0, Central 16
The battle of "The Ville" went the way of the Crusader before 7,648 fans who watched the mostly defensive struggle. Even though Big Red held the edge in statistics it didn't reflect on the scoreboard. The first big play of the game came on Big Red's opening series as the Crusaders forced a punt after three plays. The punt was blocked by 3 Crusaders and Charles Bertoia came up with the pigskin in the endzone to give Central an early 7-0 lead. The half ended with the 7-0 lead holding firm and lasted until the final few minutes of the 4th quarter when Brian Donnelly sealed the fate of Big Red with a 31 yard field goal. Big Red got the ball back but fumbled on the first play. Central took no time in turning the mistake into points when Anthony Orsini sprinted in from 18 yards out.
First Downs: BR-7, C-5
Rushing: BR-122, C-68
Passing: BR-1/3 for 6 yds, C-1/10 for 17 yds
Penalties: BR-5 for 55 yds, C-7 for 45 yds
Saturday, November 11th, 1978: Big Red 13, Central 26
Catholic Central used a punishing ground game to defeat Big Red before 7,300 fans on a crisp clear night. Big Red looked like the 2-6-1 team that came into the game as they couldn't get anything going on offense and couldn't stop the Central offense. After trading fumbles to start the game, Central drove down and punched it in on a Ron Mehalik 5 yard run. Big Red's Dave Iachini intercepted Central's only pass of the night and returned it to the 6 yard line. Two plays later Craig Kline ran the option in for the TD to tie the game at 7, which stood through the half. In the third quarter Central got an interception of its own and punched in the go-ahead TD on a Mike Brown 1 yard run. On Central's next possesion they broke Big Red's back when Mehalik busted a big TD run for 37 yards. On the ensuing kickoff Big Red fumbled and set the Crusaders up for Alan Costlow's 1 yard TD run. Big Red picked up a late TD on a pass from Kline to Horace Hampton but it was not enough.
First Downs: BR-7, C-14
Rushing: BR-88, C-251
Passing: BR-7/14 for 46 yds, C-0/1 for 0 yds
Penalties: BR-3 for 25 yds, C-3 for 24 yds
Saturday, November 10th, 1979: Big Red 7, Central 6
Big Red won a nail-bitter on the foot of placekicker J.R. Corsi who booted the crucial extra point to provide the margin of victory before 7,663 fans in soggy Harding Stadium. Big Red QB David Scarpone hit Hollie Martin on a 37 yard pass to set up the lone Big Red touchdown of the game. Don Hython bullied his way in from the one and Corsi added the aforementioned PAT. Central's TD came in the 2nd quarter after a 19 play, 86 yard march that ended with future Big Red TB Vance Yetts' one yard plunge with 42 seconds left in the half. John Thomaselli's PAT however was wide left. The 3rd quarter was a battle of field position with the punters exchanging punts. The 4th quarter saw Big Red using ball control to eat the clock away and on the Red's final possesion Scarpone repeatedly kept the ball on bootlegs and eventually taking a knee to wind down the clock. Big Red was presented with the Jaycees Trophy following the game.
First Downs: BR-11, C-10
Rushing: BR-154, C-174
Passing: BR-1/4 for 37 yds, C-0/6 for 0 yds
Penalties: BR- 2 for 20 yds, C-7 for 65 yds
Saturday, November 1st, 1980: Big Red 0, Central 23
Led by Anthony Pierro's 193 yards rushing the Crusaders shutout Big Red before 8,081 fans on a crisp fall night. The Big Red offense was completely smothered by the Crusader Crush Defense as it was only to penetrate to the Central 35 late in the game. CCHS marched 80 yards in its opening drive to take the quick lead, as the 6 points were rung up when Danny McGinnis took it in from the three. Pierro added the first of his 3 PAT's and the Crusaders led 7-0 with six minutes remaining in the 1st quarter. Central struck again in the beginning of the 2nd after an interception as McGinnis swept in from 11 yards out. The half ended with Central up 14-0. Big Red took possesion in the 3rd quarter but coughed up the ball and Pierro capitalized with a 10 yard TD run. The scoring was closed out with the Central defense trapping Big Red's Virgil Sanford in the endzone for a safety at the start of the fourth quarter.
First Downs: BR-na, C-na
Rushing: BR-na, C-na
Passing: BR-na, C-na
Penalties: BR-na, C-na
Saturday, November 7th, 1981: Big Red 24, Central 10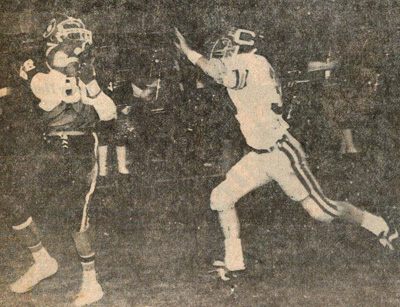 Needing a win to secure the first ever playoff birth in school history, the Big Red scored 24 unanswered points after falling behind by 10 early in the first quarter. Big Red used a choking defense to hold the Crusaders to 82 yards of total offense, and a devastating ground game led by QB Andre Creech's 132 yards to secure the win. Coach Hedmond's troops were stung early by the opening kickoff return for a touchdown by Central's Jamie Marsh. When Big Red got the ball for the first time it looked a little nervous and fumbled the pigskin over to the Crusaders, but the defense held and forced a 25 yard field goal from Anthony Simmons. From then on it was all Big Red. Steubenville's first TD came on a Creech to Henry Hython 12 yard pass after several of Creech's patented runs. The half ended with Central holding a 10-7 lead, but Big Red firmly in command. The 2nd half started with the Red receiving and driving 64 yards in 5 plays; Mike Mayo got the TD on a 2 yard run after a 36 yard effort a few plays before. A few series later Big Red struck again as FB Mike Tluchowski plunged over from the one. Creech got the final TD of the night on a 3 yard run in the fourth quarter. Big Red's defense held Central without a first down in the 2nd half and the Crusaders only crossed into Big Red territory one time the entire game and that came with under a minute to play. 8, 257 fans witnessed Big Red's City Championship, but more important for Big Red the win means a birth in the OHSAA playoffs.
First Downs: BR-22, C-5
Rushing: BR-334, C-82
Passing: BR-3/11 for 23 yds, C-1/10 for 0 yds
Penalties: BR-5 for 45 yds, C-4 for 12 yds
Saturday, November 6th, 1982: Big Red 19, Central 7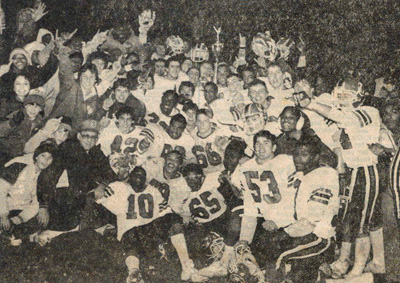 Big Red came into this contest looking for its first undefeated season since 1935, and didn't let the crowd of 7,569 down on a perfect night for football. A victory would also assure the Red of hosting an OHSAA playoff game. Big Red came out humming as John Baldwin took a handoff and raced 42 yards for the score to put SHS up early 7-0. The Crusaders hung tough and in the 2nd quarter Dirk Dugan busted loose for a 43 yard TD dash that knotted the game at seven. Big Red tried to mount a late 1st half charge, but a field goal attempt by Jeff Linn fell just short and the teams were tied at the half. Big Red took to the air in the 3rd quarter as Creech found Clint Watts streaking down the middle of the field for a 55 yard completion that set up Creech's one yard TD run and give the Red a 13-7 lead. Central would go on a long time-consuming march in the 4th quarter, but the Big Red defense came up with a huge 4th down stop when Cliffton Spinner nailed Gene DeMaria for a one yard loss. Big Red then sealed the perfect season when Creech again hooked up with Watts over the middle for a 41 yard TD pass play. Big Red celebrated the victory and the feat of going 10-0, and as the Jaycees Trophy was presented a giant 10-0 flashed on the computer board.
First Downs: BR-12, C-11
Rushing: BR-159, C-184
Passing: BR-3/6 for 101 yds, C-1/6 for 19 yds
Penalties: BR-7 for 60 yds, C-6 for 40 yds
Friday, November 4th, 1983: Big Red 14, Central 10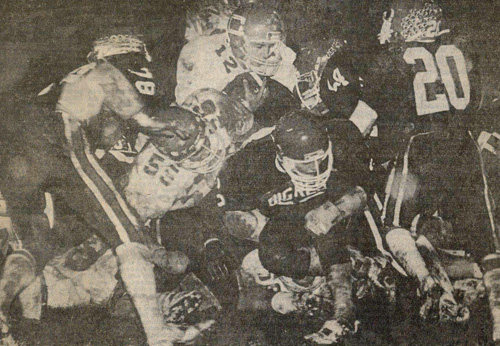 Big Red capped off another perfect season, extended their regular season winning streak to 22, assured a playoff spot for the 3rd straight year, and will host a playoff game for the 2nd year in a row, but it wasn't easy. The 7-2 Crusaders fought till the final seconds as Kevin Northrup was stopped on 4th down with under 30 seconds to play in the game. The Crusaders, who were trying to qualify for the playoffs for the first time, held the lead for most of the game. The game was played in a mixture of rain and snow which made for a lot of turnovers by Big Red who had 7 fumbles.....oddly though, the Crusaders had none. The weather didn't stop the fans though as over 9,000 people stayed throughout most of the game. A Big Red fumble set up Central's first score as they recovered the loose pigskin at the Big Red 12 and 4 plays later Joey Canestraro took it in from 2 yards out; Northrup added the PAT for a 7-0 CCHS advantage. Big Red went on an 85 yard march that culmulated in a Mike Mayo 5 yard TD run with just 42 seconds left in the half. Big Red attempted a two point conversion, but the pass fell incomplete. The key play of that drive was a 37 yard pass from Hill to Randy Birden.
The 3rd quarter saw Big Red on another long drive, this one of 66 yards and Hill did the honors himself with a 1 yard plunge. Mayo added the two point conversion and Big Red led 14-7. Central would not die though as they staged a 14 play drive that resulted in a 27 yard field goal by Northrup. The Big Red defense then made the lead stand by stopping two Central drives in the final minutes of the game.
First Downs: BR-12, C-11
Rushing: BR-158, C-143
Passing: BR-4/5 for 80 yds, C-4/12 for 44 yds
Penalties: BR-4 for 20 yds, C-9 for 45 yds
Friday, November 2nd, 1984: Big Red 12, Central 7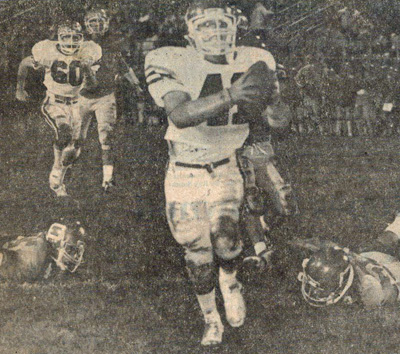 In the end there was a lot on the line for Big Red: A trip to the post-season, an undefeated season, and extending the regular season winning streak to 32 games, but what it came down to was winning the City Championship and school pride. Big Red rallied for a comeback victory with 28 seconds to play when QB Steve Nodianos hit John Murray with a 15 yard TD pass to give Big Red the victory. Both sides were stone-walled by each others defense in the first two quarters as the teams went to the half deadlocked at zero. With the running games shut down, both teams took to the air in the 2nd half. Big Red put together the first long drive of the game, a 56 yard 11 play effort, that was capped off by Brian Young's 20 yard TD run; the conversion failed however and Big Red's lead was only at six. After a Big Red fumble, Central found the big spark that they needed when Mike Haney hit Jon DiCarlantonio on a 71 yard pass play that moved the ball to the Big Red 6 yard line. But the Big Red defense held and got the ball back on its own seven. Unable to move the ball Big Red punted from its own endzone to set up the Crusaders with great field position. A few plays later Todd Dugan went in from the one to tie the game and Mike Sciarroni's PAT gave the Crusaders the lead with about 10 minutes to go in the game. Big Red then drove from its own 26 down to the Central 2 before disaster struck again. Mike Florak recovered a Todd Kelly fumble at the 2 with just over 5 minutes left. The Big Red defense held though and then Big Red went on its final game winning drive. Murray caught two 4th and long passes to keep the drive alive before making the TD catch to win the game.
First Downs: BR-16, C-7
Rushing: BR-91 yds, C-32 yds
Passing: BR-12/24 for 176 yds, C-6/11 for 120 yds
Penalties: BR-8 for 89 yds, C-8 for 70 yds
Friday, November 1st, 1985: Big Red 14, Central 3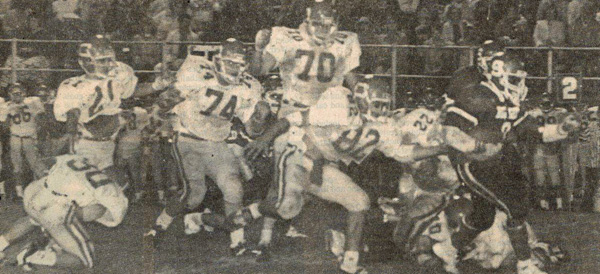 Big Red entered the game as defending State Champs, therefore having a big target on their backs, but the Red responded and won the City Championship for the 5th straight time. Big Red scored on its second possession of the night when TB Dan Wise burst over from the 3 after running for 16 and 18 yard runs on the drive. Central tried to answer as they drove down to the Big Red 8 yard line but a sack thworted the effort. A couple of missed field goals prevented Big Red from adding to its lead and the half ended with the Red on top 7-0. The 3rd quarter was a battle for field position with the defenses of each team taking control. Central got its only points on the board on a 12 play 44 yard drive that ended in a Mike Sciarroni 25 yard field goal. Big Red struck right back with a 48 yard bomb from Steve Nodianos to Julius Shackleford. The defense then closed out the affair.
First Downs: BR-10, C-10
Rushing: BR-133, C-79
Passing: BR-7/12 for 115 yds, C-9/23 for 81 yds
Penalties: BR-9 for 88 yds, C-4 for 24 yds
Friday, October 31st, 1986: Big Red 6, Central 0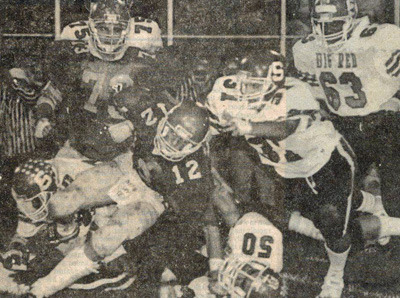 The Sledgehammer Defense pitched the shutout and the Big Red offense, despite turning the ball over several times deep in Crusader territory, did just enough to capture the City Championship for the 29th time in series history. The victory also allowed Big Red to head for the post season, capture the OVAC and Eastern Buckeye League Titles, and finish the regular season unbeaten for the 4th time in 5 years. The first Big Red score came on a Rusty Ranallo 34 yard field goal with just nine seconds left in the first half after Big Red drove into scoring territory again. Ranallo duplicated the 34 yard field goal again in the 4th quarter to round out the scoring. A skeleton was placed on top of Man O' War in honor of Halloween.
First Downs: BR-10, C-8
Rushing: BR-171, C-96
Passing: BR-7/11 for 113 yds, C-6/15 for 48 yds
Penalties: BR-6 for 80 yds, C-9 for 48 yds
Friday, October 30th, 1987: Big Red 21, Central 8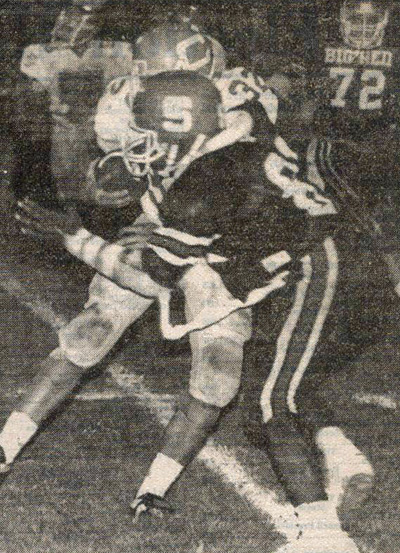 The Big Red offense got rolling early and often and "The Nightmare Defense" held the Crusaders in check as Big Red moved to 8-1 on the campaign. This marked the 7th straight victory for the Red in the all time series between the schools. James Creech found Chuck Hython alone in the endzone for an 11 yard TD pass in the 1st quarter and Rusty Ranallo added the first of his 3 PAT's to give the Red a 7-0 lead. Big Red FB Dunrick Yetts then went to work in the 2nd quarter as he scored a pair of touchdowns, the first a 6 yarder and the following a 5 yard plunge. The half ended with Big Red leading 21-0 and holding Central to a mere 2 first downs. Coach Saccoccia substituted freely in the 2nd half since the outcome was never in doubt. In the final quarter Central's Tom Eroshevich blasted in from the 3 yard line to avoid the shutout. The score was setup when QB John Saccoccia hit TE Tim O'Mara for a 48 yard completion; Mike Benjamin added the 2 point conversion.
First Downs: BR-11, C-9
Rushing: BR-164, C-3
Passing: BR-3/6 for 47 yds, C-6/16 for 84 yds
Penalties: BR-10 for 98 yds, C-3 for 32 yds
Friday, November 4th, 1988: Big Red 24, Central 0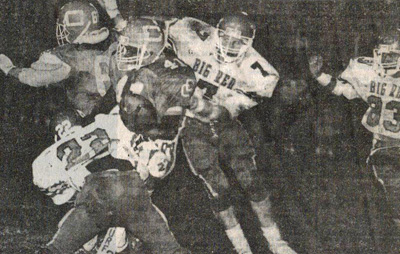 For the second straight year Big Red jumped out early on the Crusaders and then proceeded to coast to the victory. Big Red scored on their first 4 possessions enroute to the blowout in front of a boisterous crowd who celebrated another 10-0 season under Coach Saccoccia. Even without injured All State TB Dunyasha "Tubbo" Yetts, who did not play due to an ankle sprain, the Big Red offense could not be stopped. Quarterback Aric White found Chuck Hython on a 23 yard TD pass with just 3 minutes gone in the first quarter. Mike Jones added the first of his 3 PAT's on the evening. Jones also added a 27 yard field goal with a minute to go in the 1st, which gave SHS a 10-0 lead. On Big Red's very next series White found Hython in one-on-one coverage.....Hython then outjumped Rich DeFallo for the ball and sprinted 55 yards for the touchdown. Fullback Maurice Pearson then got in on the scoring parade with a 2 yard run in the middle of the 2nd. From there Big Red went to the bench and got a lot of underclassmen some valuable experience.
First Downs: BR-16, C-4
Rushing: BR-167, C-47
Passing: BR-7/9 for 125 yds, C-5/18 for 41 yds
Penalties: BR-7 for 85 yds, C-6 for 65 yds
Friday, October 28th, 1989: Big Red 14, Central 7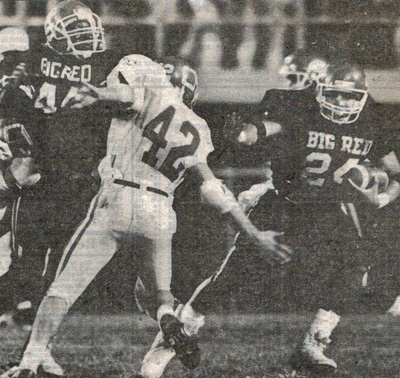 Both teams entered this match-up with identical 8-1 records and both sitting firmly in position to advance to the OHSAA playoffs. Before a standing room only crowd of 12,000, the Big Red and Crusaders renewed their heated rivalry for the 47th time under ideal conditions in Steubenville Big Red's Harding Stadium. Big Red got on the board first after a long 80 yard, 11 play drive that ended with Ryan Terry streaking in from 30 yards out. Mike Jones converted the PAT and SHS had the early 7-0 lead. The next possession saw the Crusaders come right back on a lengthy drive of their own. Going 72 yards in 12 plays Central methodically moved down the field until the drive bogged down at the two yard line. Coach Bjelac opted to pass the field goal attempt and go for it on 4th down. The play was a halfback option pass and it worked perfectly as Rich DeFallo found Kevin Williams in the corner of the endzone. The PAT was true by Frank Marcino and the contest was tied. Big Red went to work quickly in the 3rd quarter as Aric White looked deep for Chuck Hython on a fly pattern....the pass was perfect and Hython took it in stride to complete the 36 yard scoring play. Jones converted again and Big Red had the 14-7 lead. A last ditch effort by the Crusaders was snuffed out when Terrance Christian made his 3rd interception of the night..this one in the back of the endzone. From there Big Red killed the clock with the running game.
First Downs: BR-13, C-8
Rushing: BR-206 yds, C-102 yds
Passing: BR-2/8 for 48 yds, C-4/12 for 26 yds
Penalties: BR-13 for 92 yds, C-5 for 40 yds
Friday, October 26th, 1990: Big Red 24, Central 0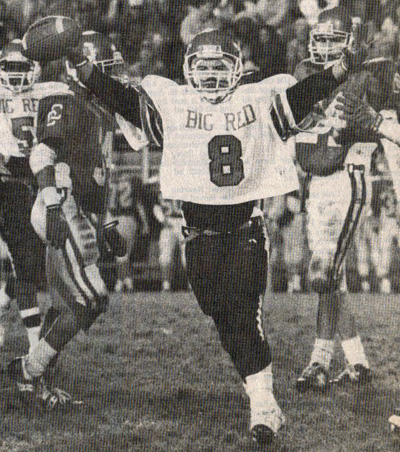 This one was supposed to be a barnburner, but it turned out to be sheer domination by the Big Red defense who held the Crusaders to without a first down in the first half and 50 yards of total offense for the entire night. Both teams entered the game with identical 8-1 records and trying to clinch a post season playoff birth, therefore there was more at stake than the usual school pride and City Championship. Big Red took the opening kickoff and drove 70 yards in 17 plays which set up Mike Jones' 25 yard field goal with two minutes left in the 1st quarter. In the 2nd quarter Anthony Reda took an option around the end for a 6 yard TD run...PAT Jones and Big Red's lead was at 10. Steubenville struck again right before the half ended as Reda spotted Mike "Buster" Tillman on a 23 yard TD pass; once again Jones added the PAT. Big Red held a commanding 17-0 halftime lead and held the Crusader to zero yardage of total offense. The second half saw Big Red enter Central territory on each of its 6 possessions, but only coming away with a Reda to Tillman 33 yard TD pass in the middle of the 4th quarter. Central did not manage to cross the Big Red 50 yard line for the entire game.
First Downs: BR-14, C-4
Rushing: BR-457 yds, C-35
Passing: BR-7/13 for 116 yds, C-3/14 for 15 yds
Penalties: BR-7 for 35 yds, C-1 for 10 yds
Friday, October 18th, 1991: Big Red 21, Central 7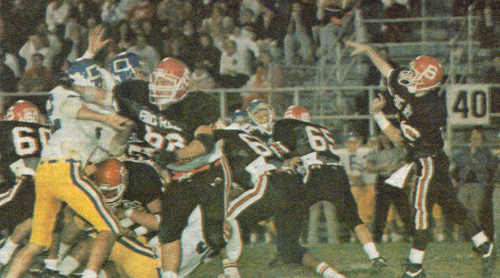 For the first time both teams entered the game with undefeated records and looking a assure themselves a spot in the position in the post season. But just as the previous year it was the Big Red defense that stole the show. A capacity crowd of 10, 000 came out for this week 8 battle and were treated to a well played contest. Big Red got on the board first with a Jeff Grill to Matt Shepherd TD pass of 28 yards that saw Shepherd drag two defenders into the endzone with him. Central countered with a 9 play drive that culmulated with a Travis Marcino QB sneak that evened the game at seven going in at the half. Big Red came out of the field house and took command in the 2nd half as Tyrone Roseberry took a cross-buck for a 10 yard TD run to give the Red a 1-7 lead with a little over two minutes remaining in the 3rd quarter. Roseberry broke the Crusaders' back in the 4th quarter when he took another cross-buck at his 7 and raced 61 yards to set up Jim Keaton's 1 yard TD run. Ricky Fletcher added the 2 point conversion to round out the scoring.
First Downs: BR-15, C-11
Rushing: BR-219 yds, C-80 yds
Passing: BR-5/12 for 90 yds, C-3/11 for 29 yds
Penalties: BR-7 for 73 yds, C-1 for 5 yds
Friday, October 16th, 1992: Big Red 6, Central 13
Eleven years of Big Red domination/Central frustration was ended on a damp chilly night before 6,000 fans. Big Red had entered the game at 5-1, while the Crusaders were 3-3, but records didn't mean much when the final whistle had sounded and the Crusaders stormed the field in jubilation. The game favored the Big Red statistically, but Central capitalized at the given opportunities and regained the City Championship for the first time since 1980. Central set the tone early as they took the opening possesion and marched 69 yards in 11 plays ending with QB Mike Orlando's 1 yard TD sneak. Big Red scored its only TD of the game right before the half as Shane Nalepa connected with Chris Snyder on a 37 yard gain down to the Central 2 yard line. Tyrone Roseberry took it over from there, but the PAT was blocked and CCHS held a 7-6 lead at the half. Big Red drove repeatedly in the second half only to come up empty. At the start of the 4th quarter Big Red was in position to attempt a 28 yard field goal but it was blocked by Fred Manalac. Central then went on a drive that featured a fake punt and ended with Donald Thorn's 13 yard TD run with 42 seconds left. The PAT was missed and the lead was at seven. Big Red tried desperatly to tie the game but ran out of time as Jason Shackleford was stopped at the 11 yard line as time expired.
First Downs: BR-17, C-10
Rushing: BR-161, C-93
Passing: BR-8/19 for 156 yds, C-4/13 for 55 yds
Penalties: BR-5 for 55 yds, C-3 for 33 yds
Friday, October 1st, 1993: Big Red 20, Central 15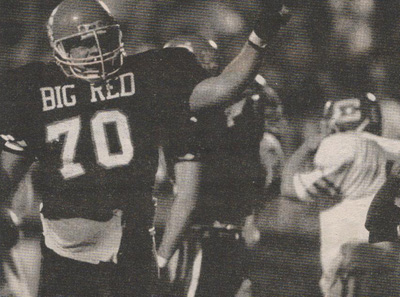 A packed house watched as Big Red and Central staged a masterpiece of thrilling proportions on a clear night in the house that Punque built. Big Red known for its big plays, pulled out a huge one in the final minutes to earn a hard fought win over the eventual Division 5 State Champions. Big Red struck the first blow as the Red marched down the field and QB Jason Vein ran a 3 yard option into the endzone with 44 seconds left in the first quarter; Eric Black's PAT gave Big Red the 7-0 lead. Central answered right back with a drive of its own and when Mike Orlando found Dave Connor on an 18 yard TD pass the game was knotted at 7 (Benji Clause added the PAT). Big Red then hit the first of two huge plays in the game as Vein dumped off a receiver screen pass to Ricardo Parrish and he took it the distance of 45 yards for the score; again Black added the PAT for a 14-7 Big Red lead at the break. The 3rd quarter saw the teams have golden opportunites to score but mistakes thwarted the efforts. After pinning Big Red in the hole and a subsequent punt, the Crusaders took over at the Big Red 28 yard line. On 4th and 11 Orlando rolled right and hit Clause on a 29 yard TD pass to bring the Crusaders to within one. Central faked the PAT and Orlando raced around end and diving in for the 2 points which gave the Crusaders a 15-14 lead with 3:35 showing on the clock. It took Big Red less than a minute to respond as Vein hit Mario Constantini on a receiver screen and the speedy senior took it 63 yards for a TD and send the Big Red crowd into a frenzy. The Big Red defense then closed out the affair when David Livingston intercepted an Orlando pass.
First Downs: BR-13, C-12
Rushing: BR-102 yds, C-127 yds
Passing: BR-9/17 for 204 yds, C-6/15 for 112 yds
Penalties: BR-7 for 50 yds, C-2 for 15 yds
Friday, September 30th, 1994: Big Red 14, Central 0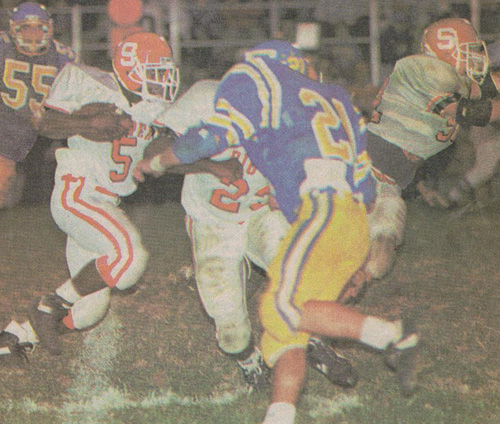 Both teams entered this highly anticipated match up at 4-0 and a crowd of over 8,500 did not get disappointed as the Big Red and Crusaders waged their annual war. Big Red overcame having 3 touchdowns called back and turning over the ball 4 times to get the win. Big Red receiver Jason Bigsby got things going with a 17 yard TD reception from QB Jason Vein at the 2:00 mark of the 2nd quarter, and Mike Perlosky added the PAT for a 7-0 Big Red lead. Big Red had another chance before the half to add to its lead, but a holding call nullified a spectacular TD reception by Bigsby. Central had the ball inside of the Big Red 25 yard line on 4 different ocassions in the 2nd half, but the Big Red "Death Row" Defense would prove to be unpenatrable. Big Red went on an 8 play, 70 yard march in the 4th quarter to salt away the victory. Nate Johnson, who had 135 yards rushing, got the TD with 5:30 to play on a 6 yard run and Perlosky added the kick to close out the scoring.
First Downs: BR-11, C-9
Rushing: BR-140 yds, C-67
Passing: BR-6/13 for 125 yds, C-11/26 for 89 yds
Penalties: BR-6 for 55 yds, C-5 for 40 yds
Friday, September 29th, 1995: Big Red 0, Central 6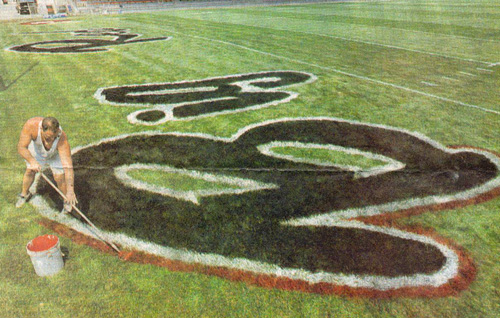 Undefeated Steubenville Big Red entered this game thinking of winning the City Championship for the third straight year.....Catholic Central had other ideas. The Crusader defense did a lot of bending but never broke as Central shut Big Red out for the first time since 1980. Both teams had moderate success moving the ball, but the only score of the game came in the 2nd quarter when QB Benji Clause found Brandon Ice for a 13 yard scoring toss....the drive covered 70 yards in 9 plays. Big Red had two late attempts to pull the game out. The first drive took 21 plays and went 53 yards but a 4th down incomplete pass ended the drive with 2:10 left in the game. Big Red got the ball back and embarked on one final drive. A Chris Scisciani to P.J. Tiberio pass netted 36 yards to the Crusader 9, but after two incompletions and an intentional grounding penalty the Red was faced with a 4th and goal. Scisciani threw to a diving DeJove Platt but the ball popped loose as Platt hit the ground. Game over.
First Downs: BR-13, C-12
Rushing: BR-166 yds, C-149 yds
Passing: BR-8/25 for 140 yds, C-5/12 for 89 yds
Penalties: BR-4 for 25 yds, C-2 for 20 yds
Friday, September 27th, 1996: Big Red 7, Central 6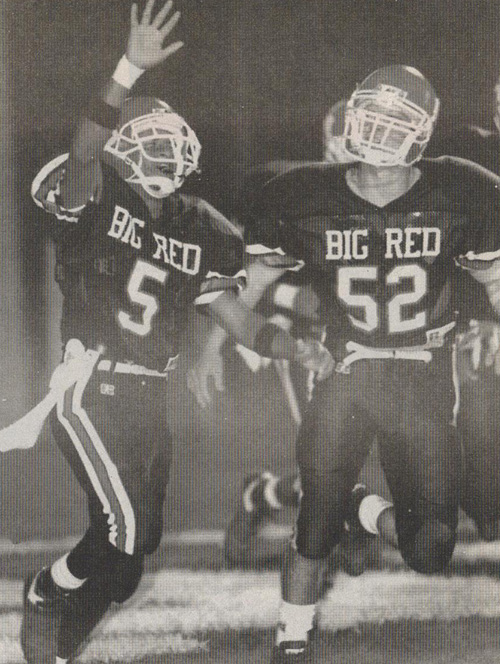 In a game where both teams' offenses found the going rough, Big Red pulled out a one point win before a nice crowd in the midseason clash. Big Red looked like they would run away with the game as they started out with an 8 play 72 yard drive that ended with Mike Jones crashing into the endzone from the two. Mike Donnelly added the PAT and Big Red had the lead with 5:30 left in the first quarter. Big Red threatened again before the half but a Paul Marook interception killed the drive with 28 seconds left. The third quarter saw the Crusaders recover a Big Red fumble on the Steubenville 38 and in 9 plays parlayed there fortune into a Joe Petrozzi 2 yard TD run. The PAT however was blocked by Big Red John Cybulski and the Big Red lead stood at 7-6. Big Red had a chance to add to its lead in the 4th quarter but a fumbled snap away at the five. The Big Red defense then made the lead stand.
First Downs: BR-10, C-7
Rushing: BR-159 yds, C-107 yds
Passing: BR-3/10 for 35 yds, C-2/16 for 19 yds
Penalties: BR-2 for 15 yds, C-6 for 65 yds
Friday, October 17th, 1997: Big Red 28, Central 13
The 55th annual City Championship got under way with Big Red's Ryan Constantini causing and recovering a fumble on the opening kickoff. It took Big Red a few plays to capitalize when TB Carlton West sprinted in from 18 yards out. Aaron Provenzano converted the first of his 4 PAT's to give the Red a quick 7-0 lead. West followed that run with a 10 yard TD burst at the end of the first quarter. The Crusaders struck in the 2nd quarter on a Chad Biggio to Mike Zucosky 30 yard TD strike; Cory Sutton added the PAT. Big Red got a key drive together of 80 yards in 13 plays to score right before the half. QB Ryan Lucas lobbed a TD pass to Steve Phipps of 7 yards to put SHS up 21-7 with 20 seconds to go in the half. Big Red then put the nail in the coffin as they took the 2nd half kickoff and drove 72 yards in 13 plays, and ate nearly 7 minutes off the clock. Chuck Johnson got the TD on a one yard plunge. Central got the final score of the game when Biggio scampered in from 6 yards out; the 2 point conversion failed however. Central had one more opportunity when Zucosky intercepted a Lucas pass, but the Big Red D came up big when Anthony Smith knocked down a 4th down pass at the six.
First Downs: BR-16, C-12
Rushing: BR-157 yds, C-91 yds
Passing: BR-12/19 for 97 yds, C-9/20 for 93 yds
Penalties: BR-5 for 40 yds, C-8 for 46 yds
Friday, October 30th, 1998: Big Red 41, Central 0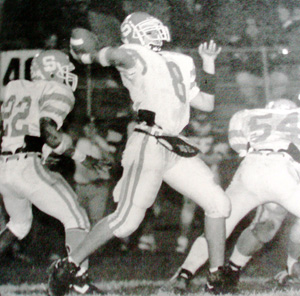 Big Red took out a little frustration for the unusual losing season that it has been experiancing this year. Catholic Central just happened to be in the way. Big Red used a devastating ground game that ran for an unbelievable 554 yards and a defense that would shut out the Crusaders for the first time since 1994. Matt Vein had a 1 yard QB sneak to start the Red off in the first quarter and from there they never looked back. After a 83 yard run by Vinnie West, Carlton West punched it in from the two and Big Red led 14-0 with 2 minutes to go in the 1st quarter. Vinnie West, who had a total of 218 yards rushing, busted a run for a 24 yard TD in the second and Big Red led 21-0 at halftime. In the 3rd quarter Carlton West got his 2nd TD of the night on a 4 yard run. Sophomore Brian Benton, who checked in with 119 yards, scored the next Big Red TD on a 46 yard sprint to the house. Aaron Provenzano added all 5 PAT's. The final SHS touchdown came from backup QB Matt Ellis who had a 14 yard option run.
First Downs: BR-20, C-13
Rushing: BR-554, C-5
Passing: BR-1/5 for 11 yds, C-6/24 for 177 yds
Penalties: BR-11 for 112 yds, C-9 for 70 yds
Friday, October 15th, 1999: Big Red 54, Central 12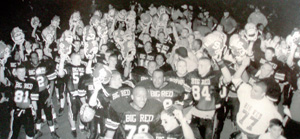 Big Red erupted for 54 points and the "Torpedo and Rocket" ran over, around, and threw the Crusader defense. Brian "Torpedo" Benton had 161 yards and a TD, and Vinnie "Rocket" West had 103 yards and 3 TD's in Big Red's offensive showcase. Big Red jumped out quickly in the first quarter on a pair of West TD runs of 39 and 13 yards. Todd Filtz got in on the act in the 2nd as he bulled his way over from the one. Gavin Federico then added another one yard run and it was 28-0 in favor of Steubenville at the break. A busy 3rd quarter saw Big Red sophomore Jesse Turner return the opening kickoff 80 yards for a touchdown. Central got off the schnied on Justin Geary's 2 yard run. Big Red came right back though as West sprinted in from 9 yards out. Jason Morelli answered for the Crusaders with a 7 yard TD run. Benton closed out the 3rd quarter barrage by banging in from 19 yards out. Brandon Fletcher closed out the evenings scoring by juking for a 15 yard jaunt.
First Downs: BR-20, C-12
Rushing: BR-385 yds, C-171 yds
Passing: BR-4/11 for 78 yds, C-8/13 for 94 yds
Penalties: BR-11 for 128 yds, C-4 for 39 yds
Friday, September 29th, 2000: Big Red 21, Central 0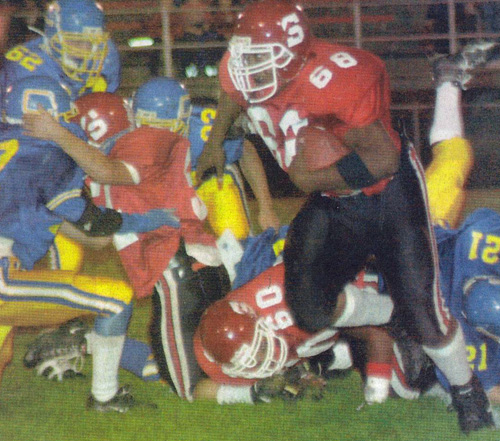 In the final game of the series it was a rock solid Big Red defense that secured the win by shutting down the Crusaders enroute to their 41st City Championship title. Big Red got on the board in the 2nd quarter when FB Todd Filtz took it over on a one yard dive. Big Red faked the PAT as holder Brian Pruitt hit TE Brian Radakovich for the 2 pointer. The 3rd quarter action included Brian Benton's 11 yard TD run, a portion of his 199 yards on the night, and the PAT by freshman Trevor Kalinowski. The last ever touchdown in the series was scored by QB Mike DiAngelo who ran an option in from the six; the PAT failed. At the time of the contest nobody knew that in a few months the Catholic Central principle would end the 57 year old rivalry. The total stands at Big Red: 41, Central: 16, and Ties: 1.
First Downs: BR-na, C-na
Rushing: BR-166 yds, C-41 yds
Passing: BR-6/11 for 109 yds, C-7/18 for 64 yds
Penalties: BR-9 for 108 yds, C-9 for 70 yds