2016 Varsity Coaches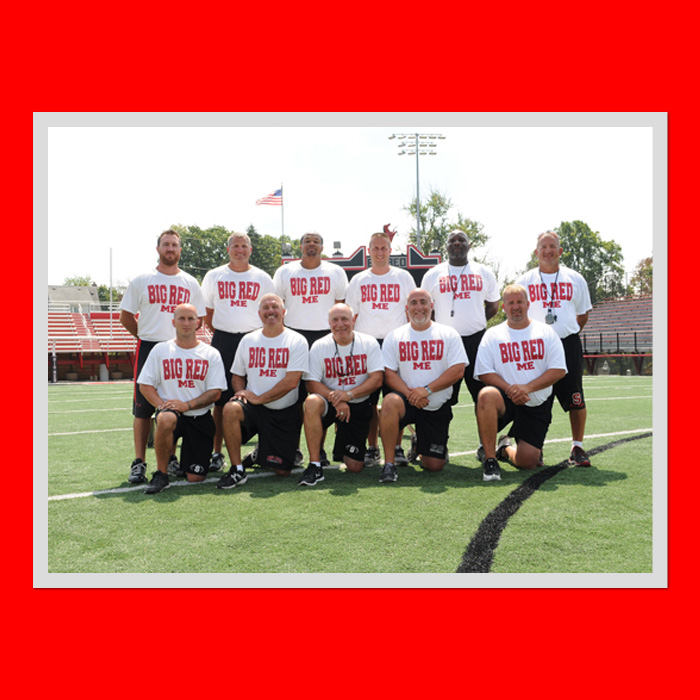 Front Row: Todd Filtz, Mike Haney, Head Coach Reno Saccoccia, Gus DeMarzio, and Jason Kernahan.
Back Row: Jo Jo Saccoccia, Joe Pierro, Brian Pruitt, Dan Filtz, Terrance Montgomery, and Anthony Pierro.
Head Coach Reno Saccoccia
Coach Saccoccia was born on August 18th, 1949, in Steubenville, and is the son of Mr. & Mrs. Rinaldo Saccoccia. He attended St. Anthony's elementary and Catholic Central High School. After high school Reno headed to the University of Akron to pursue a degree in Education. Upon graduating from UA in 1971 he was hired on as an assistant at United Local by Sam Fornsaglio. He returned to Steubenville in 1977 to join the staff of Coach Bill Bohren. In 1978 Coach Sac took over the reins of Harding Junior High and quickly put his stamp of toughness and discipline to the young Bulldogs. In 1981 Coach Robert Hedmond was given the task of rebuilding the Mighty Big Red, and brought Reno back to the Varsity staff.
Coach Hedmond decided to retire from coaching after restoring the Big Red tradition with playoff appearances in 1981 and 1982. Appointed to the task of not only maintaining what Coach Hedmond had started, but furthering the quest to reach the ultimate goal was Mr. Reno Saccoccia.
Coach Sac immediately found success and finished his rookie season with an undefeated regular season and a narrow playoff loss. In 1984 not only did Big Red finish the regular season once again undefeated, but they also finished the post season unblemished and captured the program's first on the field state football title.
During the next 7 years Big Red would qualify for the post season, and make deep runs, finishing as runners-up in 87 and 88, and making 6 trips to the state semi-finals. In 1991 Reno and his staff became the fastest to win 100 games in Ohio history.
In the years that followed have been many great victories and a few tough losses, but the constant is that Coach Sac's teams will be fundamentally sound, disciplined, hard-working, and relentless in their quest to be the best.
In 2007 the Harding Stadium field was named in Reno's honor, thus it became Reno Field at Harding Stadium.
At the close of the 2015 season, Reno's record is 343 victories and 66 defeats, 26 playoff appearences, 16 regional titles, 4 state runner-ups, and 3 state titles.
Coach Reno was inducted into the Ohio High School Athletic Association Hall Of Fame in the spring of 2009.
Coach Saccoccia is married to the former Patricia McGinnis, has 3 children, and 8 grandchildren.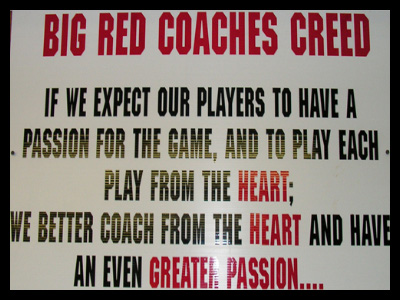 A Family Affair: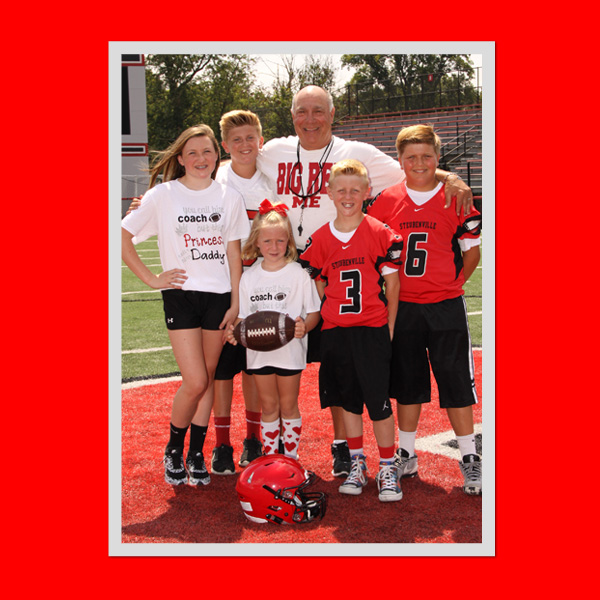 Head Coach Reno Saccoccia with his grandchildren.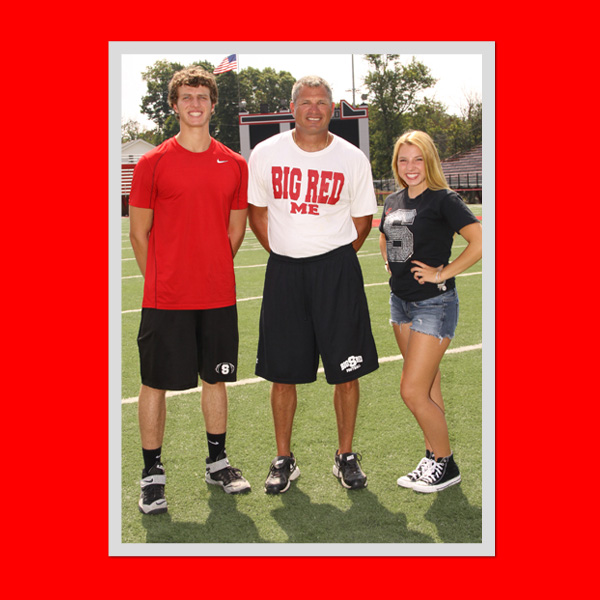 Coach Jo Jo Pierro with his daughter and son.
Coach Pierro is a graduate of Steubenville Catholic Central High School, and West Liberty State College, where he played football and baseball. Jo and his wife Tiffany have 2 children, Mia a 8th grader, and Michael a senior at Big Red.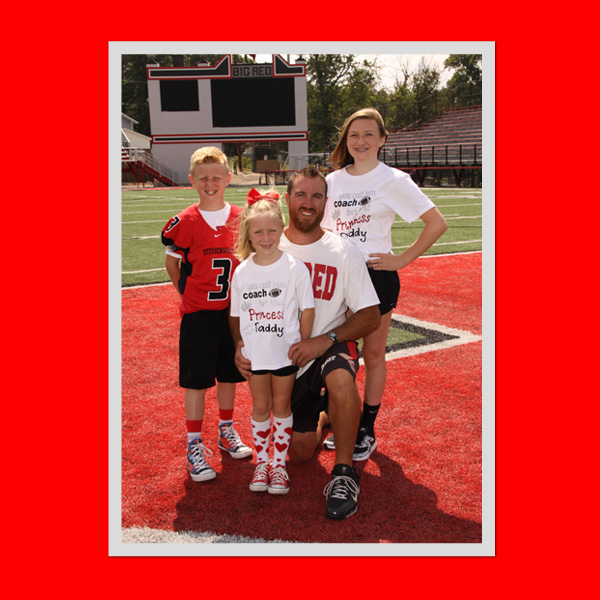 Coach Jo Jo Saccoccia with his son and two daughters.
Coach Jo Sac has been involved with the Big Red program since he was 5 years old as a Mini-Manager. He graduated in 1995 as a 2 year starter at defensive end and center. Jo then went on to be a 3 year starter at center for Baldwin-Wallace, where he was named captain of the 1998 edition. Before coming home to Big Red Coach Jo was a 3 year member of the Warren G. Harding staff, serving as offensive line coach. He returned to Big Red as OL coach, but now serves as our offensive coordinator. Jo and his wife Trish have a daughter Libby, a son Brody, and a little girl Lucy.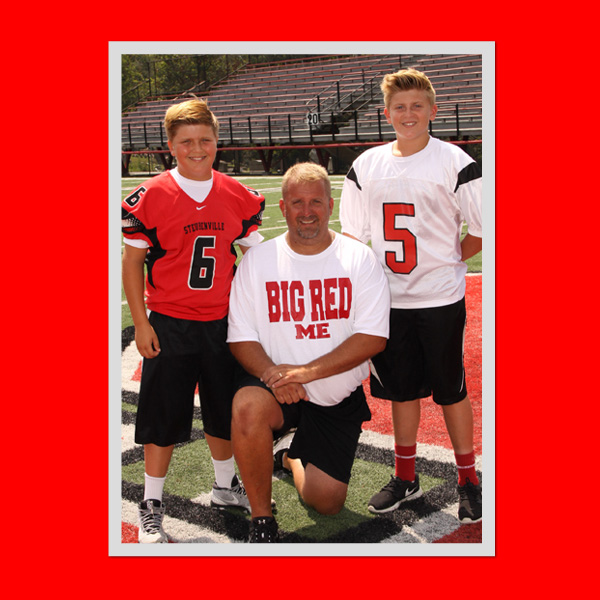 Coach Jason Kernahan and his two sons.
Coach K is a graduate of Buckeye North High School, where he was a 3 year starter, and then continued his education and athletic career at Fairmont State. He returned to his hometown to coach at Buckeye Local for 3 years as Defensive Coordinator, then went on to Martins Ferry to coach the OLB's and RB's. He is now in charge of our LB's and TE's. Jason is married to the former Michelle Saccoccia, and they have 2 children, Cade a 7th grader at Harding, and 10 year old Jace.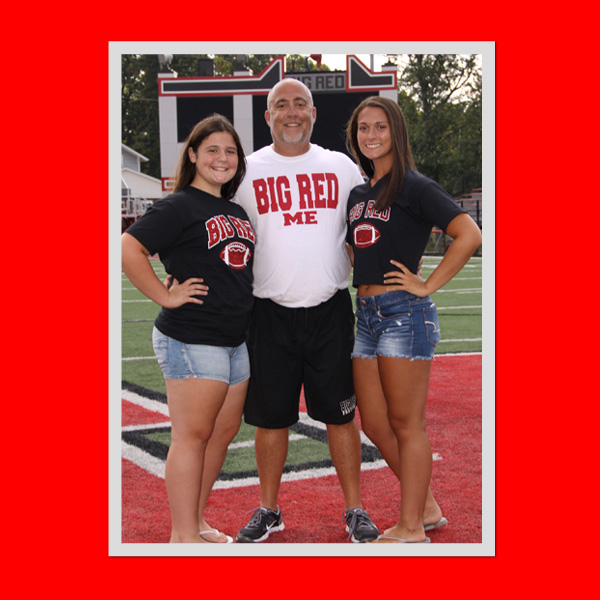 Coach Gus DiMarzio and his three daughters.
Coach DiMarzio has been on the Big Red Staff since 1995, and the varsity staff since 2000. He is a graduate of Brooke High School and West Liberty State College, where he was a receiver. Gus coaches the cornerbacks. He has 3 daughters, Kennedy, Kameron, and Kirsten.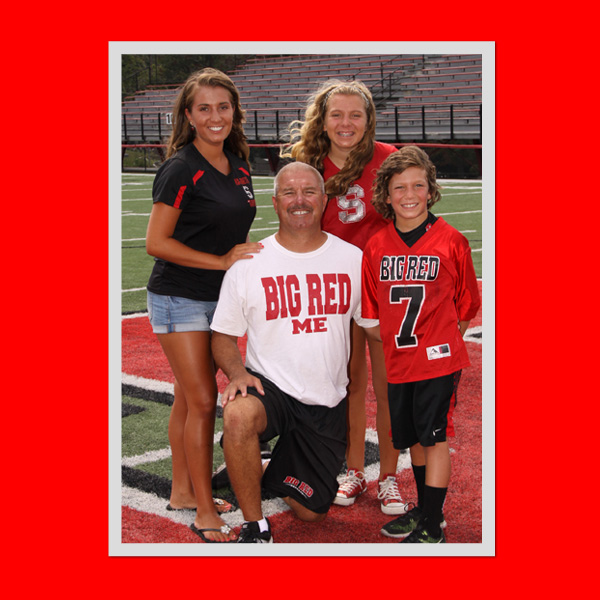 Coach Mike Haney with his son and two daughters.
Coach Haney is a 1985 graduate of Steubenville Catholic Central, where he was the QB and a captain. He then went on to Whittier College (Ca.) as a 2 year starter. After finishing college Mike went to Europe and played 3 seasons, serving as a quarterback and coach. Upon returning to Steubenville Coach Haney had stops at Central and Edison before joining the Big Red Staff in 2001 to guide the quarterbacks and safeties. Coach Haney is also Big Red's Head Basketball Coach. He and his wife Susan have 3 children, Taylor, Jillian, and Santino.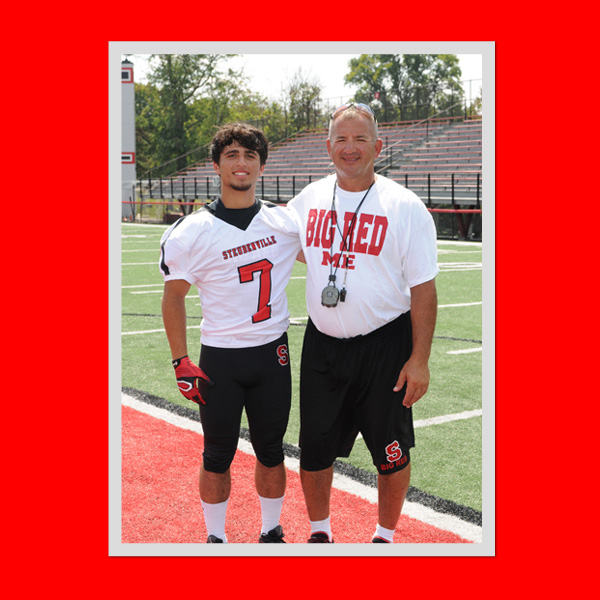 Coach Anthony Pierro with his son.
Coach Pierro has been a member of the Big Red staff since 1986, which makes him the longest tenured. Anthony started as the RB coach, but then added Defensive Coordinator to his resume in 1994. He is a 1981 graduate of Steubenville Catholic Central where he rushed for over 2,000 yards in 2 years as a starter. He then attended Slippery Rock University, and graduated in 1986. Coach Pierro and his wife Gina have 4 sons, Anthony, a 2011 Big Red grad, Jo, a 2012 Big Red graduate, Bryan, a 2014 Big Red graduate, and Gino, a Junior at Big Red.

Coach Mike Blackburn with his son.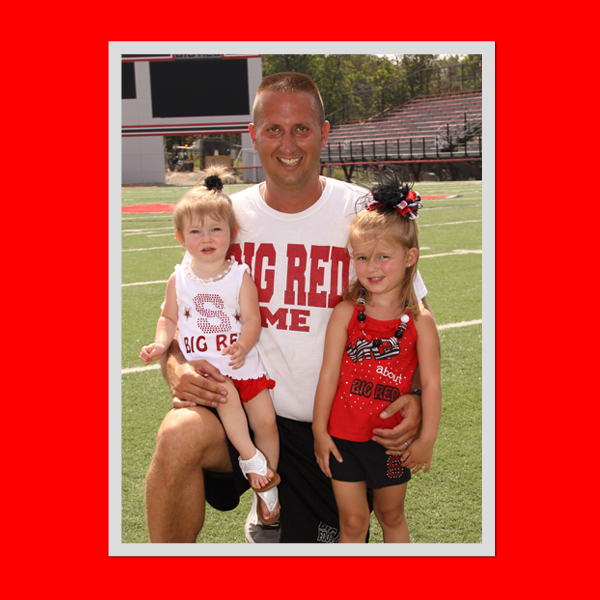 Coach Dan Filtz with his daughters.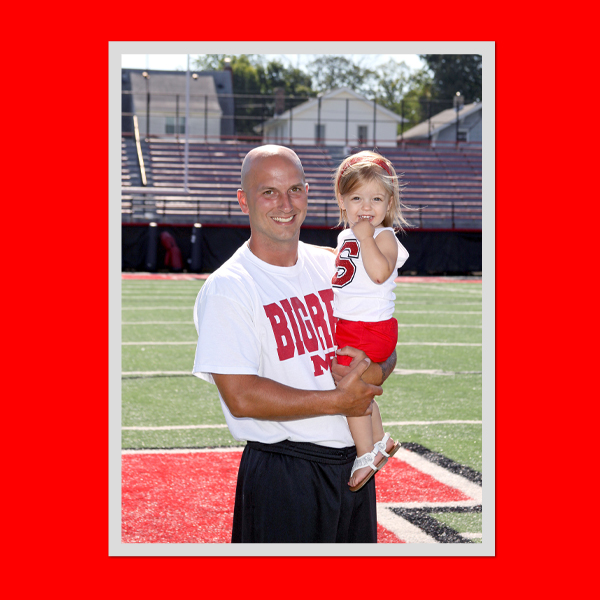 Coach Todd Filtz with his daughter.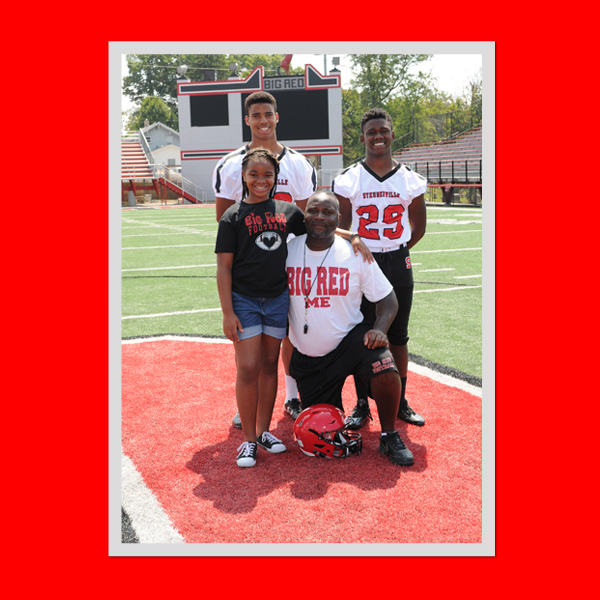 Coach Terrance Montgomery with his family
.Coach Josh Meyer with his daughters.