Week One: DC Wilson Tigers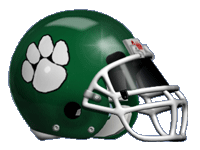 District of Columbia, 3950 Chesapeake St NW, Washington, DC 20016 , (202) 282-0120

Home Stadium- Wilson Stadium (1939), turf since 2007.
Division- 1 (600 Boys)
Conference-D.C.I.A.A.
Region-NA
Last year- 10-2
Coach-Mark Martin
Notable Returners-
Offense-Spread
Defense-4-3
All-time record-
Playoff record-
State Champions- NA
Website: Wilson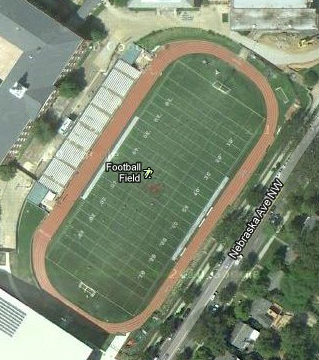 Series record-Big Red 3, Wilson 1
1998- Big Red 22, Wilson 31
1999- Big Red 41, Wilson 8
2012- Big Red 28, Wilson 8
2016- Big Red 49, Wilson 33


Most significant Big Red win- 1999's 41-8 homecoming victory helped Big Red advance to the post season for the first time since 1994.

The Skinny: Wilson is a magnet school for the city of DC. The school serves several neighborhoods, including Georgetown, Glover Park, Chevy Chase, and Tenleytown. However, there are many out of boundary students that come from all parts of the District.
The school's student body represents 85 countries and the students come from 40 different schools in the city. The school mascot is the Wilson Tiger; its colors are green and white; and its motto is "Haec olim meminisse juvabit", a Latin phrase meaning "In days to come, it will please us to remember this". The phrase comes from Virgil's Aeneid; Aeneas says it to his men after a storm.
2016 Tigers' Schedule:
| Week | Date | Opponent | Result | Site | Division | Points |
| --- | --- | --- | --- | --- | --- | --- |
| 1 | 8/25 | BIG RED | 33-49 | A | 4 | 6.5 |
| 2 | 9/1 | Yorktown Va. Patriots | 41-0 | A | 1 | 6.5 |
| 3 | 9/9 | McKinley Tech DC Trainers | 63-7 | H | 1 | 6.5 |
| 4 | 9/16 | Open | - | - | - | - |
| 5 | 9/23 | Roosevelt DC Rough Riders | 42-7 | H | 1 | 6.5 |
| 6 | 9/29 | Dunbar DC Crimson Tide | 43-0 | H | 1 | 6.5 |
| 7 | 10/7 | Woodson DC Warriors | 35-41 | A | 1 | - |
| 8 | 10/15 | Ballou DC Knights | 53-22 | H | 1 | 6.5 |
| 9 | 10/21 | Anacostia DC Indians | 62-6 | A | 1 | 6.5 |
| 10 | 10/29 | Eastern DC Ramblers | 50-0 | H | 1 | 6.5 |
| 11 | 11/3 | Ballou DC Knights | 52-20 | H | 1 | - |
| 12 | 11/12 | Ballou DC Knights | 20-12 | H | 1 | - |
| - | - | - | - | - | 1st Level:6.5 | 2nd Level: 45.5 |